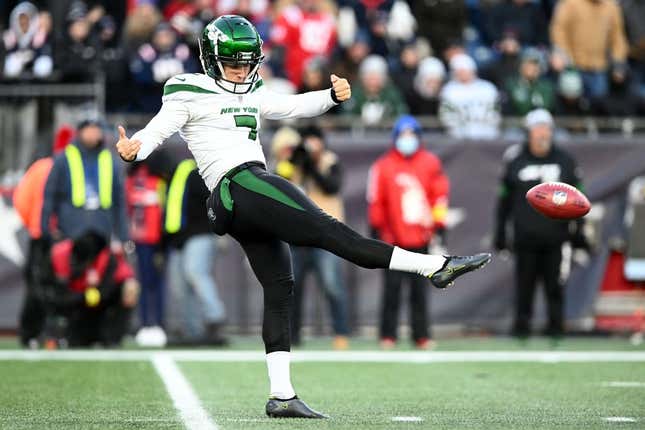 Punter Braden Mann, who was released after three seasons with the New York Jets on Thursday, was claimed off waivers by the Pittsburgh Steelers on Friday
Mann, 25, could provide competition for incumbent Pressley Harvin III, the Steelers' punter the past two seasons. Harvin averaged 42.6 yards per punt (38.0 net) in 2021 and 44.5 yards (41.1 net) in 2022
The Jets selected Mann out of Texas A&M in the sixth round of the 2020 NFL Draft. As a rookie, he appeared in all 16 games and averaged 43.9 yards per punt with a net average of 37.2 on an NFL-high 82 punts.
Mann suffered a knee injury on his first punt in the 2021 season opener at Carolina and missed seven games. He returned to average 45.7 yards and 41.6 net yards, with 14 punts inside the opponents' 20-yard line with one touchback.
Last season, Mann played in 17 games and averaged a franchise-record 46.9 yards per punt (17th in the league) with a net average of 40.8 (24th). He recorded eight touchbacks and a career-high 27 punts downed inside the 20. Two punts were returned for touchdowns.
The Jets recently signed veteran punter Thomas Morstead, making Mann available for trade, according to reports.
Mann would earn a $1.01 million salary if he makes the Steelers' roster, while Harvin is slated to make $940,000, according to reports
--Field Level Media