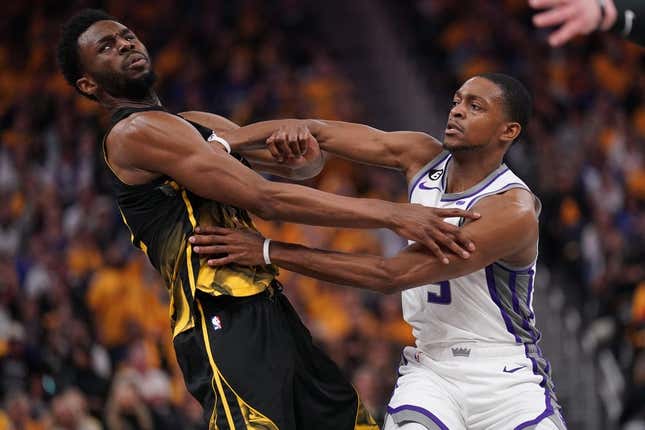 Stephen Curry scored a game-high 36 points and the Golden State Warriors got back into their Western Conference first-round playoff series against the Sacramento Kings with a 114-97 triumph on Thursday in San Francisco
'Soccer fandom is full of gatekeepers' says Ted Lasso actor Brendan Hunt
Playing without suspended Draymond Green and ill Gary Payton II, the Warriors continued the series' home-court dominance with a first win in three tries. Game 4 of the best-of-seven series will be played in San Francisco on Sunday
Curry might have been the game's top scorer, but teammate Kevon Looney was the biggest difference-maker in a contest in which neither team shot well. Golden State outshot the guests 40 percent to 38.0 percent overall and 32 percent to 23.4 percent on 3-point attempts.
Looney's game-high 20 rebounds were critical. Nine of his game-high total came on the offensive end, helping Golden State retrieve 18 of its misses.
Looney also found time for postseason-career-high nine assists after never having had more than five in a playoff game. He scored four points.
De'Aaron Fox had 26 points, 10 rebounds and nine assists to pace the Kings, who tied for the second-best road record in the NBA during the regular season
Matched up with Looney most of the night, Sacramento's Domantas Sabonis countered with 15 points and 16 rebounds.
Harrison Barnes chipped in with 17 points and Kevin Huerter 13 for Sacramento, which made just 11 of its 47 3-point shots.
The Warriors never trailed, building a nine-point advantage by the end of the first quarter and holding a 53-41 edge at halftime
Two free throws by Malik Monk had Sacramento within striking distance at 84-74 in the first minute of the fourth quarter, but Andrew Wiggins hit from short range, Jonathan Kuminga dropped in a layup and Curry connected on an interior hoop in a six-point run that opened a 16-point advantage.
Wiggins finished with 20 points, Jordan Poole 16, and Klay Thompson and Moses Moody 13 apiece for the Warriors, the defending NBA champs who were staring at a 2-0 deficit in a playoff series for the first time since 2007
Donte DiVincenzo contributed six points, seven rebounds, eight assists and four steals to the Golden State cause. The Warriors outrebounded the Kings 59-53
--Field Level Media