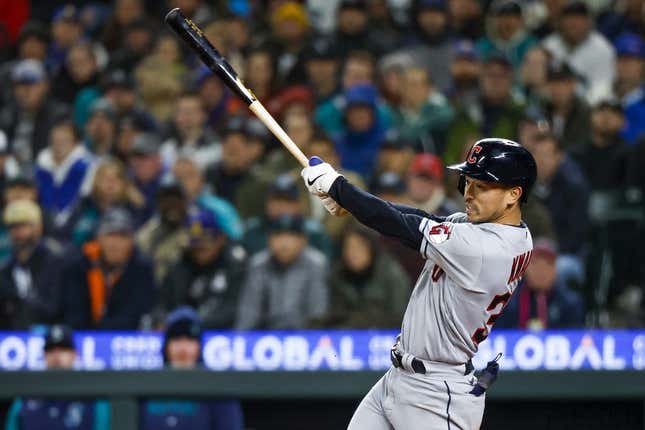 It would appear Cleveland's Steven Kwan and Seattle's Julio Rodriguez aren't worried about any sophomore slumps.
Air Jordans are more American than McDonald's French fries | Deon Cole's Ultimate Sports Fantasy
Kwan finished third in the American League's Rookie of the Year voting last season behind Rodriguez and Baltimore's Adley Rutschman, Kwan's former teammate at Oregon State.
Kwan went 2-for-4 with a double and matched his career high with five RBIs as the Guardians posted a 9-4 victory over the host Mariners on Friday night. Rodriguez went 2-for-5 with two doubles and an RBI
The Guardians and Mariners are scheduled to continue their four-game series on Saturday night in Seattle
Kwan helped make sure the Guardians bounced back after being blanked 3-0 on Opening Night
"In baseball, I feel like you're always a little superstitious about getting that first (win) out of the way. Getting that first one feels really good," Kwan said.
He had a sacrifice fly in the second inning and a tie-breaking two-run double in the fourth on Friday. Kwan added a two-run single in the fifth to become only the second player in franchise history to have five RBIs in one of the first two games of the season, joining Hall of Famer Larry Doby, who accomplished the feat in 1953.
"I don't worry too much about him," Guardians manager Terry Francona said of Kwan
Cleveland got back to the style it used to win the American League Central title last season, largely by creating havoc on the basepaths. The Guardians took advantage of three Seattle errors and drew eight bases on balls
"That's our brand of baseball, and to see it go well is motivating for everyone going forward," Kwan said.
Mariners manager Scott Servais said Friday's game was one to forget
"That was very uncharacteristic of how we usually play," Servais said. "Certainly not our best night, the combination of the walks and a couple miscues in the field against a team that does a really good job of putting the ball in play. They did make it happen out on the field, and we didn't respond great."
Five of Cleveland's runs were unearned.
"You're not going to win that ballgame," Servais said. "So we'll let it go. We'll come back (Saturday). I was hoping we'd win all 162 games, but there was a good chance that wasn't going to happen. We just didn't play a clean game."
The Guardians' bullpen was stellar, with five relievers combining for 5 1/3 scoreless innings, allowing two hits and striking out nine. Right-hander Nick Sandlin (1-0) got the victory
"Just one guy at a time, everyone trying to do their job when their name is called," Sandlin said. "The lineup had everything going, a lot of traffic on the bases."
Cleveland's Aaron Civale (5-6, 4.92 ERA in 2022) is scheduled to take the mound Saturday against fellow right-hander Logan Gilbert (13-6, 3.20).
Civale is 1-2 with a 3.86 ERA in three career starts against Seattle, while Gilbert is 1-1 with a 3.71 ERA in the same number of starts vs. Cleveland.
--Field Level Media