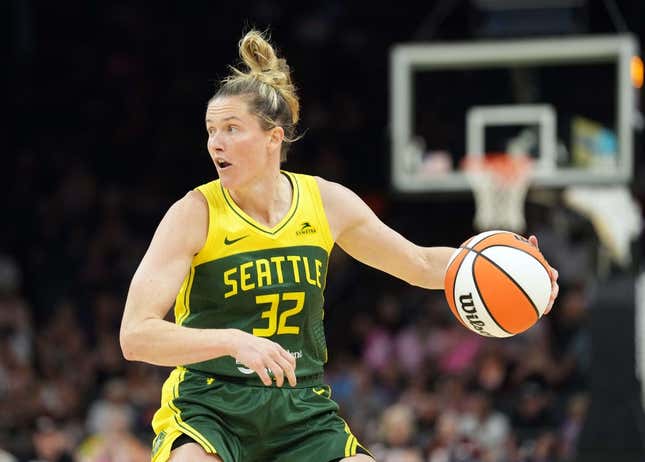 There has not been much reason to cheer for the Seattle Storm this season.
That could be changing, however, as the odds could be in the Storm's favor on Sunday against the visiting Phoenix Mercury.
How running an NFL team is like running a restaurant | Chef Emeril Lagasse
"The fans have been amazing," Seattle coach Noelle Quinn said. "They understand what this year is for us. For fans to continue to support us knowing that we are building in a way with young pieces, it's amazing."
The Mercury (9-20) and the Storm (8-21) own two of the three worst records in the WNBA.
The Storm are aiming to win back-to-back games for just the second time this season, The Mercury, coming off a four-game homestand, will vie for their first three-game winning streak of the season.
The Storm have been playing well with a 4-2 record in their last six games. Yet Seattle has won three home games all season, including Thursday night's 68-67 decision against the Atlanta Dream after rallying from a 16-point deficit.
That was a crowd-pleasing outcome, and the Storm want more.
"Through the ups and downs, they stick with us," Quinn said of the fans. "We really appreciate that."
Phoenix has scored more than 90 points in each of its last four games. That included an WNBA-record 45 first-quarter points Thursday night in a 90-84 win over the Connecticut Sun.
"I knew that we were making a lot of shots," Mercury interim coach Nikki Blue said. "That's a lot, but the ball was in the right people's hands. This isn't by accident. We've been working and we've been grinding. We've been getting up extra shots. Our team has been working."
Even with the latest offensive surge, Phoenix averages a league-low 78.0 points per game. Seattle is second-to-last in that category at 78.2.
Phoenix, however, ranks third in the league in field-goal shooting at 44.8 percent.
"We have a lot of great shooters," said Blue, whose team is averaging a league-high 15.7 turnovers per game.
Brittney Griner led the Mercury in scoring for the first time in more than a month with 21 points against Connecticut.
The Mercury hold a league-worst 1-13 record in road games.
—Field Level Media