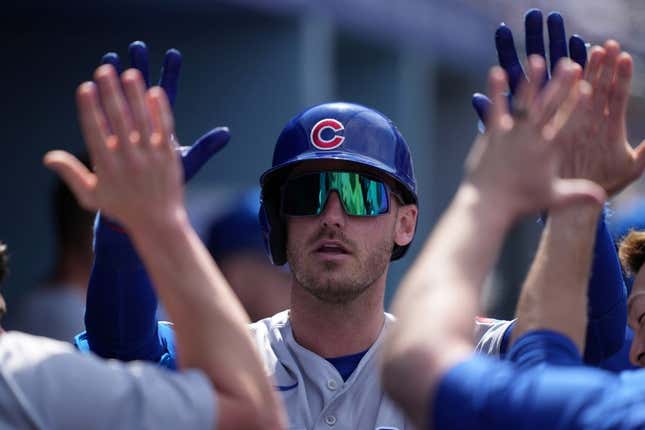 The Chicago Cubs made a strong showing on their first extended road trip of the season, taking two of three from the Los Angeles Dodgers to start it off
Air Jordans are more American than McDonald's French fries | Deon Cole's Ultimate Sports Fantasy
Looking for a fifth consecutive victory, the Cubs return home Thursday night. And once again they get things started against the struggling Dodgers
Chicago lost three of its first four games this season but is 10-3 since. And following a three-game sweep of the Oakland Athletics, the Cubs have won four consecutive series. That capped a 5-1 trip that started by holding the Dodgers to two runs in each of the three games
After outscoring the A's 26-3, the Cubs lead the NL in average runs (5.82), and rank among the major league leaders in team ERA (3.24)
"Great road trip for us, great series (in Oakland). We know we've got a big homestand back at Wrigley, so we'll be ready to go," veteran Eric Hosmer, who clubbed his first home run as a Cub during Wednesday's 12-2 rout of the A's, told Marquee Sports Network.
"We're getting good work done. We're having a good time doing it. We're creating our own energy. It's fun to be around."
Thursday's Chicago starter Jameson Taillon (0-2, 4.50 ERA) allowed seven earned runs over nine innings in losing his first two starts with Chicago. However, the right-hander yielded just two hits and two walks while striking out seven in five scoreless innings of Saturday's 2-1 loss at Los Angeles. For his career, Taillon is 0-1 with a 5.68 ERA in four starts against the Dodgers
Freddie Freeman had one of those hits against Taillon but went 2-for-12 during the Cubs' series. Freeman was 4-for-11 with two homers and four RBIs as the Dodgers followed the Cubs series by losing two of three at home to the New York Mets this week
The Dodgers opened this season 5-2 but have dropped eight of 12 since and are 3-4 on the road in 2023
"We have been inconsistent," Los Angeles manager Dave Roberts said.
"It's not preparation, it's not work. It's not familiarity for me. I think that guys have a good rapport. So, I don't know, I expect it to be more consistent."
While the Dodgers' bullpen has a collective 5.01 ERA, their starters have a solid 3.76 ERA, with opponents batting .233 against the rotation. Scheduled Thursday starter Michael Grove (0-1, 9.00) might be considered the exception after allowing 12 runs over 7 1/3 innings in his first two starts. However, the right-hander yielded only a Patrick Wisdom home run and a single while fanning and walking two over 5 2/3 innings versus Chicago on Saturday in his only prior meeting with the Cubs
Wisdom went 4-for-13 and homered in each game at Los Angeles last week. He hit .333 with five homers and nine RBIs during the six-game trip. Meanwhile, ex-Dodger Cody Bellinger, who homered in Chicago's 3-2 win on Sunday against his former club, is batting .378 with 11 runs scored and six RBIs in the last nine contests.
Los Angeles star Mookie Betts went 3-for-12 against the Cubs last weekend but missed the last two games while on paternity leave. Roberts said that when Betts returns, he could be at shortstop as the Dodgers are minus regular starter Miguel Rojas (hamstring) and versatile Chris Taylor (left side) is also dealing with an injury
--Field Level Media