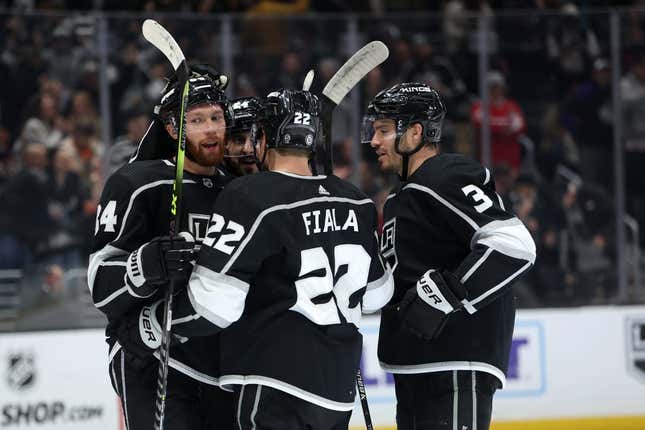 The Los Angeles Kings will look to pass another test when they face the Colorado Avalanche in Denver on Thursday night.
The Kings have won four in a row to stay on the heels of the Vegas Golden Knights for first place in the Pacific Division.
Colorado should pose a significant challenge, especially as the defending Stanley Cup champions try to gear up for another long playoff run.
The Avalanche have been slowed by a significant number of injuries this season, but they showed during a six-game winning streak last month that they can still beat the best teams in the league.
The Kings, meanwhile, seem less concerned with whom they're playing than how they're playing.
"We want to keep building our game," Kings center Phillip Danault said. "We know we can get even better, and obviously we want to carry that into the playoffs."
Los Angeles most recently defeated the visiting Washington Capitals 4-2 on Monday night.
Kings defenseman Vladislav Gavrikov didn't receive much attention when he arrived with goalie Joonas Korpisalo from the Columbus Blue Jackets in exchange for longtime Kings goalie Jonathan Quick on March 1, but he's already made a major impact in his first three games with the Kings.
He scored his first goal with Los Angeles in the win against the Capitals.
"Most important is we got the two points," Gavrikov said. "That's important for us as we're climbing to the finish right now."
The Kings could be down another defenseman after Sean Durzi left in the third period against Washington after taking a hard hit from T.J. Oshie in the neutral zone.
"He had to go in and get evaluated," Kings coach Todd McLellan said. "The evaluation takes a certain amount of time and the clock ran out. I saw him in there, he seems to be feeling good. ... I think he'll be okay."
The Avalanche are coming off a 6-0 win against the visiting San Jose Sharks on Tuesday, ending a three-game losing streak in which they had surrendered 17 goals.
Before that losing streak, Colorado seemed to be rounding into playoff shape with its six straight wins, two of which came against Vegas and the Edmonton Oilers, two teams that figure to challenge the Avalanche in the Western Conference playoffs.
The Avalanche caught the Sharks on the second of back-to-back road games, a luxury they won't have against the Kings, who just finished three games at home and will return for a seven-game homestand after playing Colorado.
"We had the better legs and we were skating," Avalanche coach Jared Bednar said of the performance against the reeling Sharks. "But you should be able to do that and repeat that type of performance and that type of effort and that type of execution regardless of who you're playing if you're sharp and dialed in."
Colorado forward Valeri Nichushkin stood out against San Jose, tying his career high with four points against the Sharks, a feat he last accomplished as a rookie in the 2013-14 season.
"Probably next (four-point) game will be in 10 years again," he joked.
--Field Level Media