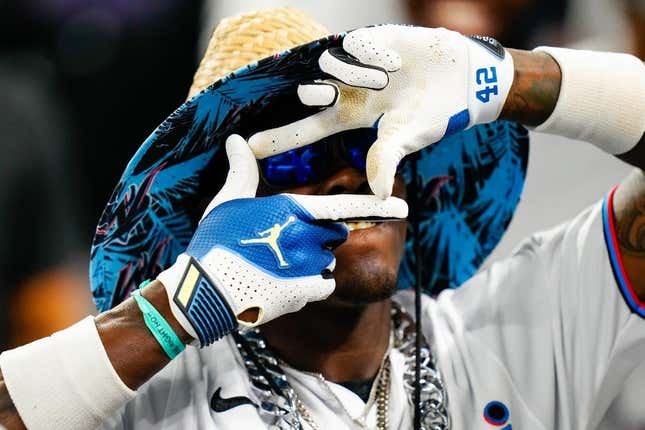 Jazz Chisholm Jr. is getting better as a center fielder. His Miami Marlins are improving, too
'Soccer fandom is full of gatekeepers' says Ted Lasso actor Brendan Hunt
The Marlins, who have won six of their last seven games, will play host to the San Francisco Giants on Wednesday afternoon, looking for a three-game sweep
The Giants, on the other hand, will try to avoid a sixth straight loss
Perhaps no player exemplifies the Marlins' transformation more than Chisholm, who played second base and shortstop exclusively in his first three years in the majors. This year, he was moved to center field -- a decision that seemed dubious because of his lack of experience at the position
Through his first 16 games in center this year, there have been some issues. But in Miami's 4-2 win over the Giants on Tuesday, Chisholm hit the go-ahead three-run homer and also stole extra bases from Mike Yastrzemski by going back into the right-center gap to make a stellar running catch
"When I saw that ball hit, I thought: 'I can't catch it,'" Chisholm said. "But I just went."
The same can be said for the Marlins. After setting a franchise record for most losses in one-run games last season (24-40), the Marlins are now winning the close ones
So far, they are 5-0 in one-run games, and they will send lefty Trevor Rogers (1-2, 4.20 ERA) to the mound on Wednesday against right-hander Alex Cobb (0-1, 3.14).
Rogers, 25, has faced the Giants only once, giving up three runs (two earned) in five innings of a 3-2 loss in his first start of last season
This year, Rogers lost his first two starts -- both to the Mets -- giving up six earned runs in a combined nine innings in those games.
However, in his third start, he allowed just one run in six innings with seven strikeouts to beat Arizona for his first win of the season on Friday.
If Rogers needs relief on Wednesday, the Marlins will turn to a bullpen that has held the Giants to two hits, one walk and no runs in 7 2/3 innings in the two games this series. The bullpen also has six strikeouts in that span
"The bullpen has been incredible to keep us within striking distance," Marlins manager Skip Schumaker said. "We've been able to capitalize.
Cobb, who has dealt with injuries throughout large parts of his career, is 3-3 with a 2.65 ERA in six career starts against the Marlins
Armed with a keen split-finger fastball and a sinker, Cobb is a ground-ball machine when healthy. Last season, he had a 62 percent ground-ball rate, and his 149 2/3 innings were his most since 2018.
Cobb, whose career ERA is solid at 3.84, will try to break the Giants out of their slump on Wednesday
"There are things we need to improve," Giants manager Gabe Kapler said of San Francisco's funk. "I don't think our record versus some of those underlying stats is as important as what we expect going forward.
The Giants have several struggling hitters, including designated hitter David Villar, who went 0-for-4 with four strikeouts on Tuesday. He is batting just .176
In addition, three-time All-Star shortstop Brandon Crawford is hitting just .160, and catcher Blake Sabol is batting .184.
"We have good players," Kapler insisted, "and they are doing some of the right things now."
--Field Level Media