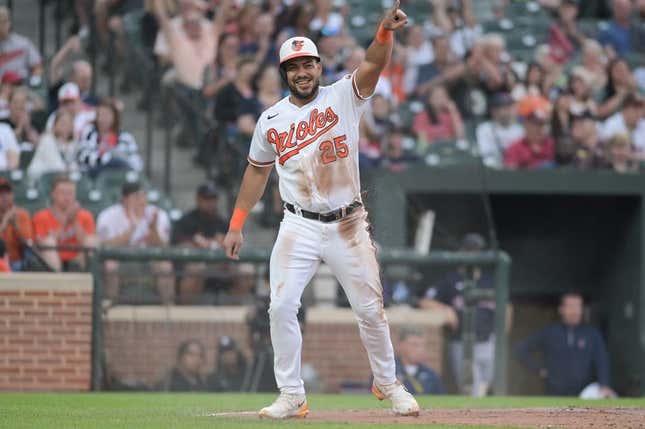 The pitching for the Baltimore Orioles has been spot-on for much of the season, and this weekend's opponent hasn't put up much of a fight
How running an NFL team is like running a restaurant | Chef Emeril Lagasse
The Orioles, who are riding their first three-game winning streak in nearly a month, are hoping to complete a sweep of the visiting Kansas City Royals on Sunday afternoon
"They have a really good pitching staff," Kansas City manager Matt Quatraro said. "There's a reason they're winning a lot of games."
The Orioles have reached the 40-win mark for the season, getting there nearly a month earlier than last year
"We have to stay together," outfielder Anthony Santander said. "It's a long season. We have to keep doing what we're doing."
The pitching part tends to be crucial for the Orioles. They won't want to let up against light-hitting Kansas City
The Royals have lost five consecutive games. They've scored more than two runs in only two of their last nine games
"We got eight or nine hits, one run, so we didn't capitalize and drive guys in when we had them on base," Quatraro said of Saturday's 6-1 result, when the Royals had eight hits. "Overall, the guys put some good swings on the ball. They play good defense. They catch the ball. That's a big reason in the difference in their winning.
The Royals stranded nine runners and were just 1-for-10 with runners in scoring position
"It has been a handful of days now where we've struggled to score," Quatraro said. "Nobody is going to be happy with that. When they're not getting the results, it's frustrating."
The Orioles have received notable recent production from Austin Hays and Gunnar Henderson. Santander had been in a slump, but he posted three hits, including two doubles, on Saturday
"Just stay positive, the right mentality," Santander said. "Be on time on the fastball is the main thing."
The Orioles will try to keep the streak going with right-hander Kyle Gibson (7-3, 3.87 ERA) heading to the mound. Gibson has lasted at least five innings in all but one of his 13 starts this season
He racked up wins in three straight starts prior to Tuesday's no-decision at Milwaukee. Yet his seven strikeouts in five innings marked his second-highest total of the season.
Gibson has a 10-6 record and 3.99 ERA all-time in 27 games, including 25 starts, against the Royals. A victory Sunday would match his 11 wins against Detroit for the most against any team in his career. Already, his 149 innings against the Royals are his most against any opponent
Right-hander Carlos Hernandez (0-3, 4.31 ERA) will make a spot start for Kansas City. It will be his 27th appearance of the season, but just his fourth start. It will be a short stint, as he hasn't worked more than 2 1/3 innings this season.
In three of his five outings against Baltimore, Hernandez has been a starter. He's 1-2 with a 4.32 ERA across 16 2/3 innings in the five outings against the Orioles
Kansas City first baseman Vinnie Pasquantino, who's batting .247 with nine home runs, went on the injured list Saturday with a shoulder injury sustained Friday night. He played in 61 of the team's first 63 games.
"We're not going to know the severity until we get back home," Quatraro said. "It's the same shoulder he had an issue with last year."
To replace Pasquantino, the Royals reinstated Edward Olivares from the restricted list and he provided three hits, including two doubles, on Saturday
--Field Level Media