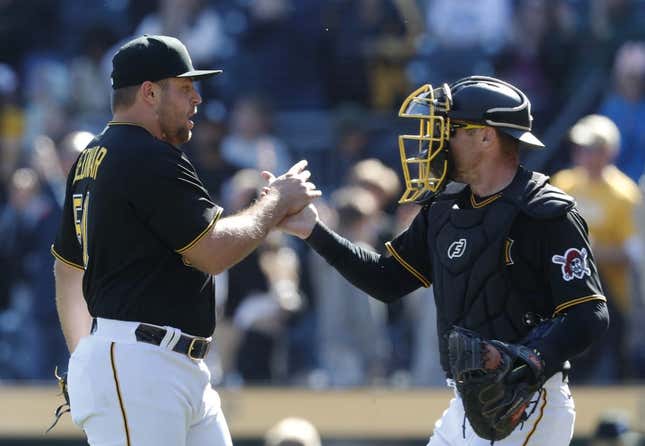 The Pittsburgh Pirates might be one of the top stories in baseball, and the visiting Cincinnati Reds are just their latest victims
'Soccer fandom is full of gatekeepers' says Ted Lasso actor Brendan Hunt
Pittsburgh beat the Reds 4-2 on Friday night, giving the Pirates victories in the first two games of the four-game series. The Pirates have won five straight overall and six of their past seven
"Winning five in a row is difficult," said Derek Shelton, who has his first streak of that length as Pirates manager. Pittsburgh had not won five in a row since mid-April 2019
After several years as also-rans, the Pirates need just one win Saturday or Sunday to clinch their fourth series win, with one split, out of seven this year. Their starting pitchers have posted quality starts in 11 straight games
Pirates closer David Bednar registered saves in each of the first two games in this series and has a National League-leading seven for the season
"It's everybody coming to the yard to compete every day and having fun," Bednar told AT&T Sportsnet. "We're having fun with it."
And dreaming big.
"We have no egos," added Pittsburgh reliever Colin Holderman, who set up Bednar the past two games. "Everyone's all in on one mission, and that's to win the Central (Division)."
The Reds, meanwhile, are expecting to ride a stable of young players this season, but there have been some growing pains. They have lost four in a row and five of six
Cincinnati managed just two runs on five hits and went 1-for-6 with runners in scoring position on Friday. Manager David Bell attributed that to the latest Pirates starter to go six strong innings, Mitch Keller
"We've seen Mitch Keller a lot. That might have been the best stuff we've seen him have," Bell said. "I know he's a good pitcher, but really good stuff. It made it tough."
On Saturday, Cincinnati right-hander Luis Cessa (0-2, 13.50 ERA) is slated to oppose the next Pittsburgh starter looking to extend the quality-start streak, left-hander Rich Hill (1-2, 5.57).
Cessa earned a bit of history in his most recent start, but not the kind he would have wanted. In the Reds' 14-3 loss to the Philadelphia Phillies on Sunday, he became the fifth pitcher since 1900 to allow at least nine runs in the first inning, then pitch into the fourth, according to the team
"I think it was the worst inning of my career," Cessa said.
Whether there will be any carryover remains to be seen.
"Every player goes through days like that, but it's tough because these guys are trying to perform for their team," Bell said. "They are trying to perform for themselves and their family. You have an inning like that, it's hard to swallow."
In total in that game, Cessa allowed 11 runs and 14 hits -- both career highs -- while facing 27 batters. He walked three without getting a strikeout.
Cessa is 1-1 with a 3.86 ERA in nine career games, two starts, against Pittsburgh.
In his most recent start, Hill got his first win with the Pirates. On Monday at Colorado, he gave up one run on six hits in six innings, with seven strikeouts and two walks
Hill is 5-4 with a 3.61 ERA in 15 career appearances, 13 starts, against Cincinnati. That includes an April 1 loss at Cincinnati when he allowed three runs in five innings.
--Field Level Media