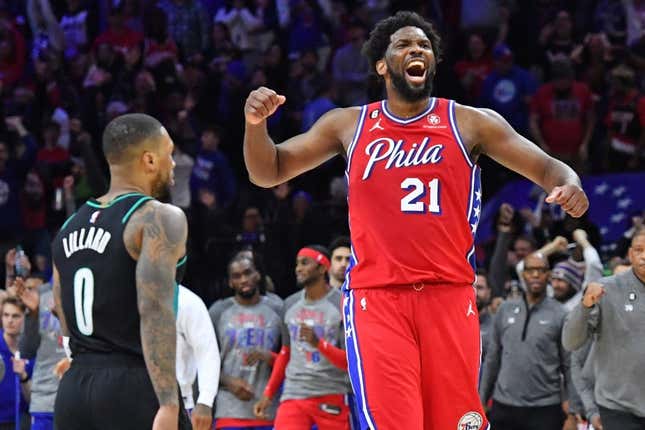 The Philadelphia 76ers will look for their fifth consecutive victory when they host the Washington Wizards on Sunday.
How running an NFL team is like running a restaurant | Chef Emeril Lagasse
The Sixers continued their winning ways in spectacular fashion as Joel Embiid hit a difficult fadeaway 15-foot jump shot with 1.1 seconds remaining to defeat the Portland Trail Blazers 120-119 on Friday.
It was the only lead of the game for the Sixers, who trailed by as many as 21 points.
Embiid carried the Sixers once again with 39 points, the fifth straight game he has scored at least 30.
Embiid is ultra-confident about scoring, but he's fully aware that the Sixers are far from a finished product.
"I've said it, I think I'm unguardable," Embiid said. "It's all about using that, trying to make my teammates better. With that comes a lot of double and triple teams every single game, so it's about how do I want to make my teammates better every game. It's not just about offense. Defensively we got to get better."
James Harden returned from a one-game absence with left foot soreness to produce 19 points, nine rebounds and eight assists.
Though it wasn't a conventional victory, the Sixers were able to extend their winning streak.
"We stayed at it," Sixers head coach Doc Rivers said. "We were looking for everything and just couldn't get going. We looked like we were in mud in the first half on both ends. That's a (heck) of a win for us because we didn't have a lot and you could see it. We just hung in there long enough."
The Wizards will look to bounce back after consecutive losses to the Atlanta Hawks.
Washington fell 122-120 on Wednesday and 114-107 on Friday. Bradley Beal led the way in the most recent defeat with 27 points and Kristaps Porzingis added 22.
The Wizards whittled a 13-point fourth quarter deficit down to two with 1:26 remaining but couldn't complete the comeback.
"No moral victories, we've got to be a lot better," Beal said. "We knew and understood the situation, the series coming into tonight, the seeding and what that could do for us. ... Laying eggs. We've got to fight through it and these next 15, got to really make a push."
The Wizards are a half-game ahead of the Chicago Bulls for 10th place in the Eastern Conference playoff race and a spot in the play-in tournament. The Hawks are in eighth place.
As the regular season winds down, Washington and Philadelphia could meet again in the postseason.
"We've talked about it a little bit," Wizards head coach Wes Unseld Jr. said. "Every game at this point is probably a higher degree of importance, specifically with where we are in the seeding and where they are."
If the Wizards hope to improve their playoff seeding, they will need to shoot better from 3-point territory. Washington shot just 7 of 27 (25.9 percent) on 3-point attempts in the second straight loss to the Hawks.
"They made theirs, we didn't make ours," Beal said. "As crazy as it sounds, (it was) probably not as many as want to shoot. We've got to find ways to generate them. I think a lot of times we just get stagnant and just watch guys."
--Field Level Media