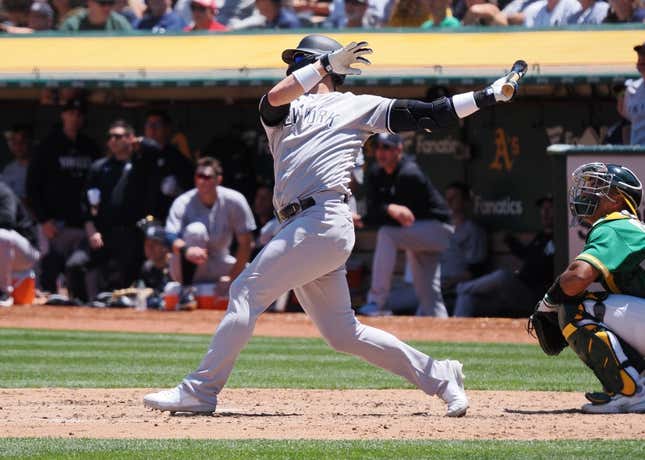 The New York Yankees powered up their offense in Oakland while overcoming the absence of injured slugger Aaron Judge
How running an NFL team is like running a restaurant | Chef Emeril Lagasse
They scored 21 runs on 24 hits in their past two games against the Athletics to roll into St. Louis with offensive momentum.
New York will open a three-game series against the Cardinals on Friday night
"Just some traction for some guys," Yankees manager Aaron Boone said. "Hopefully we keep building on that. Definitely feels good to throw up some crooked numbers.
In their 10-4 victory in Oakland on Thursday, the Yankees got 13 hits, including homers by Isiah Kiner-Falefa and Josh Donaldson, and drew four walks
"We got off to a big lead, and we were able to just keep passing the baton," Kiner-Falefa said. "I think that's the biggest thing right now -- not trying to do too much. Just trying to do some small things and let the next guy behind us do the job.
"I think when we're trying to just hit singles, it ends up being bigger than it should be. I think when we try to hit home runs, it backfires a little bit."
Before those victories, the Yankees had scored two runs or less six times in the previous nine games with Judge sidelined by a torn toe ligament
Now they will face a Cardinals team that allowed 24 runs while losing the past two games against the Houston Astros
The Yankees will start right-hander Luis Severino (1-2, 5.25 ERA), who is coming off of his best performance of the season. He threw six innings to earn the victory as the Yankees edged the Texas Rangers 1-0 on Saturday
"I thought he had good life on the fastball, and his secondary [pitches] were better," Boone said. "It still wasn't perfect by any means, but he had a really good presence. Now it's about getting to that next level of command, and hopefully he can really take off."
Prior to that victory, Severino allowed 21 runs (19 earned) on 29 hits and nine walks in 18 2/3 innings over a span of four starts. Looking to change things up, he trimmed his hair for a throwback look.
"I'm trying to get to 2017 Sevy, so I started with the haircut," Severino quipped.
Severino will make his first career start against the Cardinals, who will counter with left-hander Matthew Liberatore (1-2, 5.60 ERA). The 23-year-old hasn't faced the Yankees in his short career
Liberatore has met the quality start metric just once in six starts this season since his call-up from Triple-A Memphis. He is coming off a rough start against the Chicago Cubs on Sunday in London.
He allowed four unearned runs on four hits and two walks in 2 1/3 innings in the game the Cardinals won 7-5
"He just wasn't landing his fastball or the curveball, which are his two best pitches, enough to navigate that lineup," St. Louis manager Oliver Marmol said.
Cardinals third baseman Nolan Arenado was limited to designated hitter duty Thursday by a sore back that knocked him out of Wednesday's game. Marmol said he hopes to have him back at third base on Friday
--Field Level Media