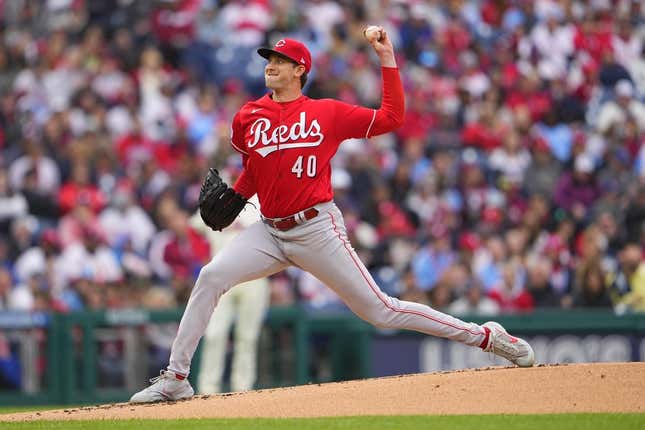 After three days away from each other, the Cincinnati Reds and visiting Philadelphia Phillies renew acquaintances Thursday in the opener of a four-game series
Bass' ERA stinks, but not compared to who he is off the mound | Worst of the Week Countdown
The teams played a pair of dramatic games as part of a three-game set last weekend in Philadelphia. The Phillies, who won 5-2 on Friday, scored three runs in the bottom of the ninth on Saturday to turn a 2-0 deficit into a walk-off, 3-2 victory
The Reds returned the favor the next day when, trailing 4-3 in the top of the ninth, they got a three-run double from Jake Fraley against Seranthony Dominguez. The 6-4 win prevented a three-game sweep for the Phillies
Thursday's series opener features a rematch of starting pitchers from the Saturday game.
Left-hander Nick Lodolo (1-0, 1.50 ERA) will start the opener for the Reds
Lodolo was the victim of the Cincinnati bullpen failing in the bottom of the ninth on Saturday. After Lodolo fanned a career-high 12 batters and allowed just three hits over seven shutout innings, closer Alexis Diaz struck out the side in the eighth but walked Nick Castellanos to open the ninth.
Diaz allowed back-to-back singles to Alec Bohm and Brandon Marsh. Ian Gibaut came in and gave up a game-tying sacrifice fly to Edmundo Sosa before Bryson Stott won it with a single to right.
The Phillies will counter Thursday with left-hander Bailey Falter (0-1, 2.61 ERA), who will be making his third start of the season
Falter did not last as long as Lodolo on Saturday but was very effective nonetheless. He retired the final 12 Cincinnati batters he faced after allowing three hits and a run in the first inning and a leadoff single to Stuart Fairchild to open the second inning.
On Wednesday, the Phillies fell to 2-8 in games started by Aaron Nola, Zack Wheeler, Falter or Taijuan Walker when they took a 3-2, 10-inning loss to the Miami Marlins
The Phillies finished their six-game homestand 3-3 against Cincinnati and Miami despite a strong six-inning effort Wednesday from Wheeler. The right-hander allowed just one run and three hits. Nola gave up four runs and nine hits over 5 2/3 innings in Philadelphia's 8-4 loss on Tuesday
"We'll deliver. It's a long season," said Nola, who has a 7.04 ERA through three starts. "We've got a lot of starts left and a lot of baseball left. If we stay healthy, we'll get it done."
Stott is getting it done at the plate wherever he is hitting in the Phillies' lineup. Batting leadoff, he went 2-for-5 in the Wednesday loss and is now hitting .420 with a .931 OPS in Philadelphia's first 12 games this season. Stott made his debut at the top of the order on Monday
"He just continues to do well and have good at-bats," Phillies manager Rob Thomson said. "We'll have to figure it out moving forward.
The Reds return home after a 1-5 road trip through Philadelphia and Atlanta, including a 5-4 loss on Wednesday that completed a three-game sweep at the hands of the Braves. The Reds have dropped five one-run games -- including each of the contests at Atlanta -- and have lost six of their past seven games overall
"We've just got to keep playing (hard)," Reds manager David Bell said. "Sometimes it's tougher when you fight back and you come up short. The season's young, but we've shown so far that we're going to continue to do that. I have a ton of confidence in each guy that they'll continue to do that.
--Field Level Media