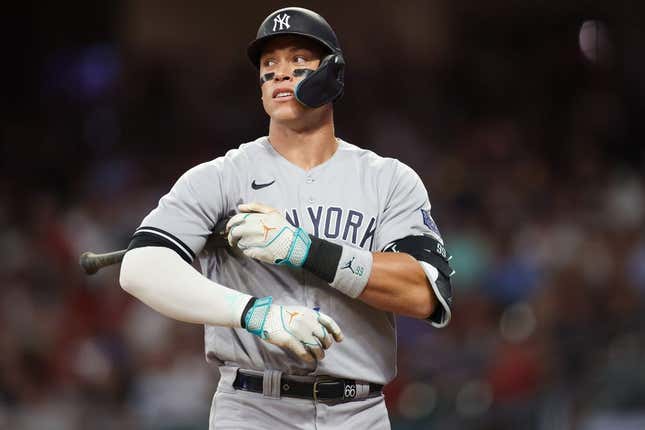 The New York Yankees are looking forward to returning home even if the fans' reaction might turn hostile.
How running an NFL team is like running a restaurant | Chef Emeril Lagasse
The Boston Red Sox are in contention for a wild-card spot and can bolster their postseason hopes while burying their rival even further.
Under .500 this late in the season for the first time since 1995, the Yankees host the Red Sox in the opener of a three-game series on Friday night.
New York returns home for the first time since splitting a four-game series with the Houston Astros on Aug. 6. The Yankees went 2-7 on a road trip against the Chicago White Sox, Miami Marlins and Atlanta Braves and are 6 1/2 games behind Toronto for the final American League wild-card spot.
"We've seen spurts of it throughout the year where we kind of get on a hot streak, but we're still looking for that long hot streak that we really haven't gotten all year," Yankees slugger Aaron Judge said. "No better time than now."
The Yankees entered the trip 4 1/2 games behind for the final wild card and split the first four games before losing the final five to drop to 60-61 — their first losing mark after the All-Star break since they also were 60-61 following a loss to Seattle on Sept. 5, 1995. Those Yankees finished up 19-4 to snag the wild-card spot but this year's version showed little life in a three-game sweep in Atlanta.
Against the team with the best record in the majors, the Yankees were outscored 18-3 and scored once in the final 25 innings while mustering five combined hits in the final two games.
"I get it looks bleak," Yankees manager Aaron Boone said. "I don't want to even suggest we're in a position to even talk about that (playoffs). We gotta fix our own house and get going."
Boston won five of six meetings against the Yankees on consecutive weekends in June and trails Toronto by 3 1/2 games.
Since June 14, the Red Sox are 30-23 and, since dropping eight of 10, they are 5-3 in their past eight. Boston heads to New York after dropping two of three in Washington, where it ended the series by nearly erasing an eight-run deficit in a 10-7 loss on Thursday afternoon.
Rafael Devers, Luis Urias and Tristan Casas homered but Boston struck out 11 times as Trevor Story went 0-for-12 in the series.
"It's literally on to the next," Story said. "I think if we play the way that we want to play and the way we can, then we'll be where we want to be when the postseason comes."
After Chris Sale struggled in his second start off the injured list, the Red Sox open the series with Brayan Bello (8-7, 3.81 ERA), who owns a 5.67 ERA in six starts since the break. Bello last pitched in a 6-2 loss to Detroit last Saturday when he allowed four runs on nine hits in 4 2/3 innings.
Bello is 1-2 with a 1.44 ERA in four career starts against the Yankees, who are hitting .198 against him. He last faced the Yankees on June 18 in Boston where he pitched seven innings of one-run ball.
New York did not announce a starter and could go with an opener before using rookie Jhony Brito as a bulk reliever. Brito is 4-5 with a 4.76 ERA in 15 games. In his three relief outings, he is 1-0 with a 1.50 ERA and pitched five innings in Miami last Saturday when he relieved Michael King.
—Field Level Media