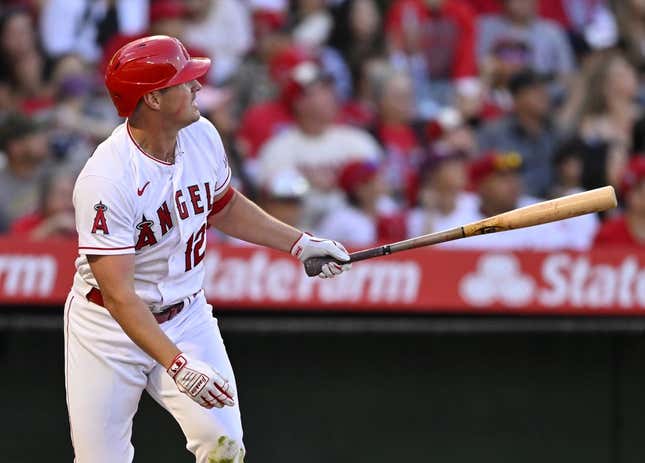 Hunter Renfroe is expected to be in the starting lineup playing right field Monday night for the Los Angeles Angels when they begin a four-game series against the Oakland A's in Anaheim, Calif
'Soccer fandom is full of gatekeepers' says Ted Lasso actor Brendan Hunt
Anything other than that would be breaking news.
Renfroe is one of two Angels (Taylor Ward is the other) to play in every game this season for the club, but Renfroe is the only Angels player to start every game and in fact has played every inning
"They told me I'll be in right field and playing every day," Renfroe said when the Angels acquired him in a trade with the Brewers for pitchers Janson Junk, Elvis Peguero and a minor-leaguer
"I'm excited for that opportunity. I love playing baseball and love playing every single day. I look forward to it. I'll play anywhere they want me," he added.
One would think that someone who provides such consistency and stability to a lineup would be coveted, but Renfroe has bounced around the league in recent years.
The Angels are Renfroe's fifth team in five seasons -- he played for the Padres in 2019, the Rays in 2020, the Red Sox in 2021 and the Brewers last season
Renfroe hit two home runs in Saturday's game and leads the club with six, one more than both Mike Trout and Shohei Ohtani. Trout and Ohtani both hit their fifth in Sunday's 4-3 win over the visiting Kansas City Royals.
Renfroe said he is happy simply to be teammates with the two superstars.
"It's very exciting to be able to witness greatness every day and see those guys play, even on the other side," Renfroe said. "Just to be on the same field as them and learn from guys like that and see what their daily routines are, it's pretty special. Obviously, it takes a little pressure off every player to be on the field with those guys and watch them do what they do, and just kind of be a piece to the puzzle and just help them be great."
Left-hander Jose Suarez (0-1, 9.26 ERA) will be on the mound for the Angels on Monday and make his fourth start of the season. He has failed to complete five innings in any of his first three. He is 3-2 with a 2.38 ERA in seven career games (four starts) vs. Oakland
Another left-hander, Ken Waldichuk (0-2, 7.65) will make his fifth start of the season for Oakland. He is 1-1 with a 4.26 ERA in two career starts covering 12 2/3 innings against the Angels
Despite Oakland's slow start this season, the club is encouraged by infielder Jordan Diaz, who has hit the ball well since being called up from Triple-A Las Vegas last week.
Diaz, who played in 15 games with the A's last season, is hitting .364 (4 for 11) with one homer and three RBIs in four games. He went 1-for-4 in a 5-2 loss to the Rangers on Sunday. His home run on Friday was the first of his major league career, a pinch-hit homer in the ninth inning against the Rangers.
"I've got confidence in him against left-handed pitching," A's manager Mark Kotsay said. "For him to get his first career home run and have it be a game-winner? It's a special night."
--Field Level Media