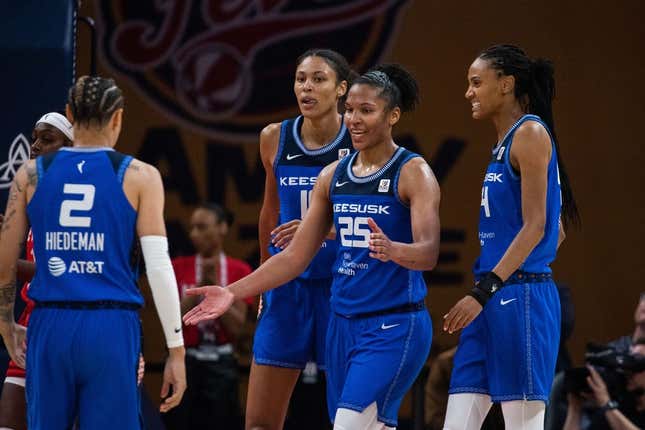 The Connecticut Sun are trying to hit their peak as the WNBA enters the final month of the season.
How running an NFL team is like running a restaurant | Chef Emeril Lagasse
The Sun (21-7) sit in third place in the league and have won three games in a row, but one of just two losses in their last 11 games came on the road against the Phoenix Mercury (72-66 on July 18). Connecticut visits Phoenix again Thursday night.
"I don't feel like we're close to peaking," Sun coach Stephanie White said. "We still have a lot of room to grow and certainly you want to be peaking as you head into mid to late August and into September.
"I think we've shown really good flashes and the challenge is to consistently continue on that trend."
Connecticut rolled to a 16-point halftime lead and led by 24 in the third quarter, before finishing with an 81-69 win at Seattle on Tuesday.
"In the first half especially I felt like our offense was flowing our defense was really solid," White said. "We stalled a bit on both ends (in the second half)."
The Mercury (8-20) are trying to get into playoff contention after a 91-72 home victory against the Washington Mystics on Tuesday night. That was their second victory in three games and they are 4-5 since the All-Star break, moving within four games of the final playoff spot.
Phoenix had one of its most balanced efforts of the season. Five players led the offense, each scoring between 11 and 15 points. No one took as many as 10 shots and the Mercury bench outscored the Washington bench, 32-16.
"Everyone was really having a great night and moving the ball well, not only offensively, but I'm proud of our bench defensively," Phoenix interim coach Nikki Blue said.
"There are so many games where we've had to sub and put our bench players in and in the game, we didn't get stops. But tonight, the bench held their own."
-Field Level Media