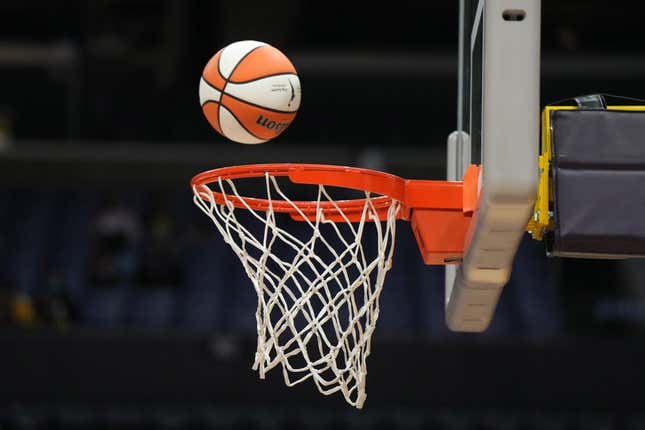 DeWanna Bonner made a tiebreaking 3-pointer after the Sun saw a big lead vanish, allowing Connecticut to pull out a 68-64 victory against the host Washington Mystics on Tuesday night.
How running an NFL team is like running a restaurant | Chef Emeril Lagasse
The Sun needed late-game defensive stops to secure the win. The Mystics missed their last six shots from the field after tying the game at 63-63 with 1:54 left to play.
Alyssa Thomas racked up 22 points and 10 rebounds, while Bonner finished with 17 points. Tiffany Hayes added 12 points for the Sun (23-10), who won their second game in a row following a three-game skid.
Nathasha Cloud racked up 19 points and Shakira Austin provided 13 points and seven rebounds for the Mystics (15-18), who again played without standout forward Elena Delle Donne.
Washington has lost back-to-back home games following a two-game winning streak as it tries to secure a playoff spot. Connecticut clinched a postseason berth over the weekend.
Bonner's go-ahead basket came with 1:37 remaining and ended what was nearly a five-minute scoring drought for the Sun.
The Mystics missed their next two shots before Austin went 1-for-2 on free throws with 34.1 seconds to play. Washington kept possession by using an offensive rebound to extend its chances, but the Mystics missed three shots with a chance to either tie or move into the lead.
Bonner sank a pair of foul shots at the 3.1-second mark to help seal the outcome.
Thomas was 10 of 16 from the field, but the Mystics kept her under control for chunks of the second half.
Washington went 13-for-15 on free throws, but it was hurt by 20 turnovers. The Mystics did have good defensive moments, compiling seven blocked shots to go with a 38-28 rebounding advantage.
The Mystics wiped out a 14-point, second-half deficit, pulling even on Austin's late, fourth-quarter jumper.
The Sun led 36-31 at halftime and then scored the first nine points of the second half.
—Field Level Media