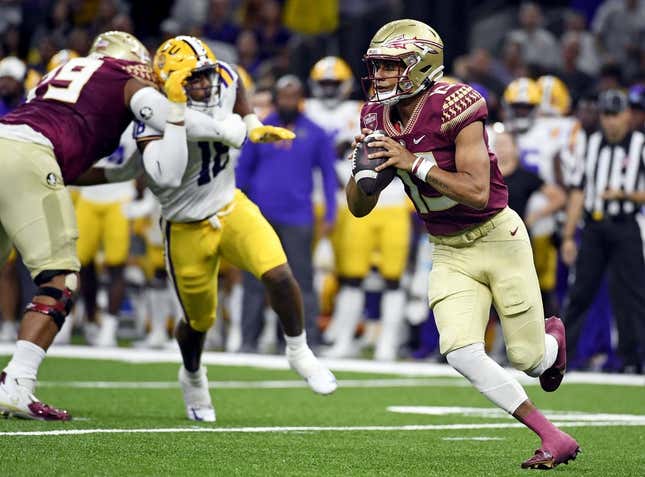 When LSU and Florida State met early last season, there were no national rankings attached to either team.
How running an NFL team is like running a restaurant | Chef Emeril Lagasse
When they meet to open the 2023 season on Sunday night in Orlando, Fla., the Tigers are No. 5 and the Seminoles, who had a one-week head-start on LSU last season, will be No. 8.
"You're going to see two football teams that want to be physical at the point of attack," LSU coach Brian Kelly said. "You're going to see two teams that want to run the football and can run the football. You might be looking at two teams that mirror each other in a lot of ways."
Another way in which the two teams mirror each other is in the progress they have made since Florida State's 24-23 victory one year ago in New Orleans. LSU drove 99 yards for a touchdown with no time left on the clock, but FSU blocked the ensuing extra point.
The Seminoles used that victory as a launch pad to a 10-3 season that ended with a six-game winning streak.
The Tigers shook off that defeat to finish 10-4 and win the SEC West before losing to eventual national champion Georgia in the conference title game. And the preseason rankings demonstrate the general expectation that both teams will be even better this season.
"They did much of the same of what I believe we did: they got better throughout the course of year," Florida State coach Mike Norvell said. "They won some close games. Obviously they built their confidence in what they were being asked to do, how they were asked to do it.
"Just like our team has gotten better from where it was a year ago, I fully expect LSU is going to be better than where they were as they ended the season."
Another similarity is that both teams ended last season in the stadium (Camping World Stadium) where they will meet Sunday night.
The Seminoles defeated Oklahoma 35-32 in the Cheez-It Bowl on Dec. 29. Four days later, LSU defeated Purdue 63-7 in the Citrus Bowl.
Each offense features a dynamic quarterback — Jayden Daniels of the Tigers and the Seminoles' Jordan Travis, both of whom threw two touchdown passes in last year's meeting.
"Two elite quarterbacks that can run, throw and are elusive," Kelly said.
LSU linebacker Harold Perkins and FSU edge rusher Jared Verse are both AP first-team preseason All-Americans.
This isn't just the second consecutive season that the Tigers and Seminoles have met early, but it's the third consecutive season that Kelly's team and Norvell's team have near the outset. Kelly's Notre Dame team defeated Norvell's Seminoles 41-38 in overtime in the 2021 opener in Tallahassee, Fla.
Both schools have been keeping a close eye on Idalia, the tropical storm that was forecast to become a strong hurricane and hit Florida on Wednesday.
"It's going to have a championship-type feel to it," Norvell said of the game, "just because you have two teams that have experience and I think are really talented."
—Field Level Media