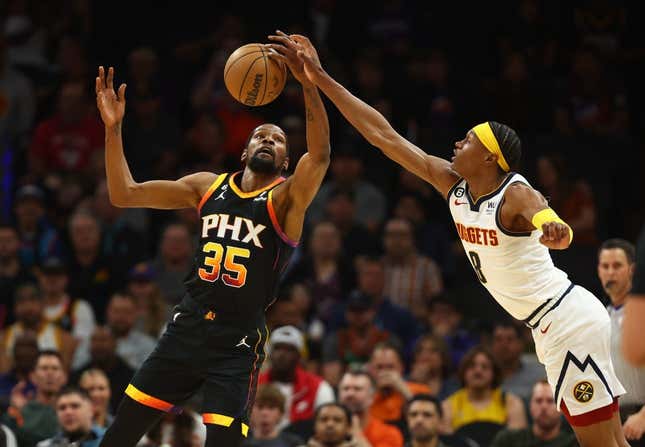 Kevin Durant scored 12 of his 29 points in the fourth quarter and the Phoenix Suns stretched their winning streak to a season-best seven games with a 119-115 home victory over the short-handed Denver Nuggets on Thursday night
Does Jimmy Butler have the best NBA Finals origin story? | Agree to Disagree
Chris Paul added 25 points and made a career-best seven 3-pointers while Durant sank six treys as Phoenix (45-35) wrapped up the No. 4 seed in the Western Conference. Deandre Ayton scored 16 points, Devin Booker had 15 points and eight assists and Torrey Craig added 11 points for the Suns
Phoenix is 8-0 when Durant has been able to play since being acquired from the Brooklyn Nets in February.
Bruce Brown scored a career-high 31 points and Reggie Jackson added 20 points and six assists for Denver (52-28), which lost for the fourth time in five games. Christian Braun scored 15 points, Jeff Green had 14 and DeAndre Jordan registered 12 points and 11 rebounds.
The Nuggets didn't play any of their five starters one night after clinching the top seed in the Western Conference when the Memphis Grizzlies lost to the New Orleans Pelicans
Jamal Murray (thumb) was out after getting injured Tuesday, and two-time MVP Nikola Jokic (calf) sat out for the fourth time in five games. Also sidelined were Michael Porter Jr. (heel), Aaron Gordon (shoulder) and Kentavious Caldwell-Pope (illness).
Denver shot 53 percent from the field, including 8 of 23 (34.8 percent) from 3-point range. Ish Smith added 11 points for the Nuggets
The Suns made 51.9 percent of their attempts and connected on 17 of 36 (47.2 percent) from behind the arc
Brown converted a three-point play and Zeke Nnaji buried a 3-pointer to give the Nuggets a 99-93 lead with 8:34 left in the game
Phoenix followed with a 11-4 run, with Durant scoring nine of the points. Durant made two free throws to give the Suns a 104-103 lead with 5:38 remaining
Jackson's jumper gave Denver a 107-106 edge with 4:30 left before Phoenix rattled off 10 straight points. Durant nailed a trey, Ayton made two free throws and Paul buried a 3-pointer and added a jumper as the Suns took a nine-point advantage with 2:28 remaining
Paul drilled his seventh 3-pointer with 1:09 left to make it 119-111 as the Suns closed it out
Durant had 11 first-half points as the Suns led 56-55 at the break. Jackson scored 11 in the half for Denver
The Nuggets used a 16-4 burst in the third quarter to take an 80-74 lead with 4:05 left in the period. However, Phoenix recovered to lead 89-86 entering the final stanza
--Field Level Media