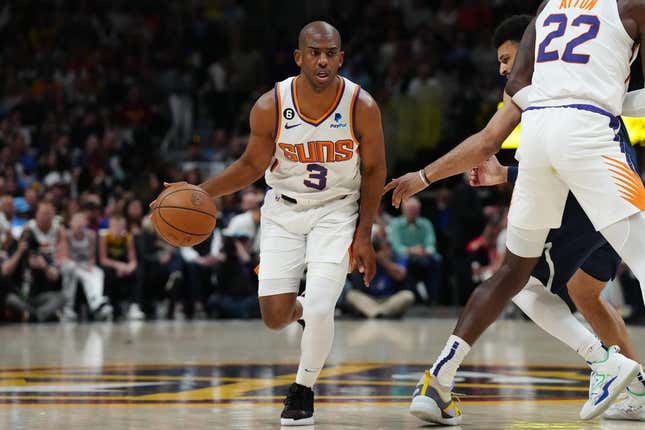 Phoenix point guard Chris Paul will miss a third consecutive game due to a left groin strain when the Suns visit the Denver Nuggets on Tuesday
The Western Conference semifinal series is tied 2-2, with fourth-seeded Phoenix having won the past two games at home despite Paul's absence.
Paul averaged 9.5 points, 5.5 assists and 2.5 rebounds in the first two games of the series, a pair of Phoenix road losses against the top-seeded Nuggets. The 38-year-old veteran missed the fourth quarter of Game 2 last Monday after getting hurt.
In the Suns' five-game series win over the Los Angeles Clippers in the first round of the playoffs, Paul averaged 13.6 points, 8.2 assists, 6.0 rebounds and 2.2 steals
A 12-time All-Star and nine-time All-Defensive Team selection, Paul put up 13.9 points, 8.9 assists, 4.3 rebounds and 1.5 steals per game during the 2022-23 regular season.
He owns postseason career averages of 20.0 points, 8.3 assists and 4.9 rebounds, while his career regular-season norms are 17.9 points, 9.5 assists and 4.5 rebounds.
--Field Level Media