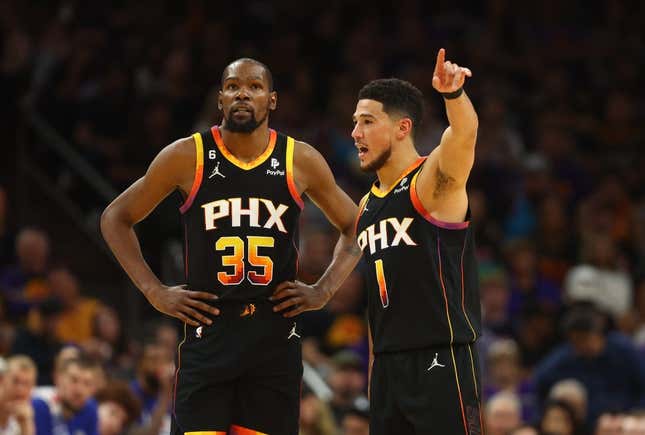 The Phoenix Suns have drawn a line toward advancing out of the first round and have followed it to a series lead over the Los Angeles Clippers
Bass' ERA stinks, but not compared to who he is off the mound | Worst of the Week Countdown
The Suns went to the free-throw line 46 times in Game 3, making 35 of the attempts, and secured a hard-fought 129-124 victory over the short-handed Clippers on Thursday. Phoenix grabbed a 2-1 lead in the Western Conference first-round series
Game 4 will take place Saturday afternoon at Los Angeles, giving the Suns an opportunity to move one game from advancing, with a return to Phoenix ahead for Game 5
"If a game is gonna be that physical you have to take advantage of it, and we got into the bonus early a few times," Suns coach Monty Williams said. "I think attacking the basket is the thing that allows for you to do that.
Suns starters Kevin Durant, Devin Booker and Torrey Craig combined to go 23 of 24 from the line by themselves. The Clippers went 19 of 25 from the line as a team
Booker finished with 45 points and Durant had 28 as Phoenix finished off Los Angeles, which was without Kawhi Leonard (knee) for Game 3 and has not had Paul George (knee) all series. George is not expected back in the first round.
"Those are those trick games that always happen throughout the year when you think somebody is missing one of their top players and you let go of the gas a bit and they take advantage of it," Booker said. "Give credit to those guys."
The Clippers will re-evaluate Leonard's sprained knee in advance of Game 4, but coach Tyronn Lue did not sound like he was expecting the injury to be a short-term situation when he addressed it after the Game 3 defeat. The injury happened in Game 1, with Leonard playing through moderate discomfort in Game 2
"I mean, it's very deflating," Lue said. "I think more so for Kawhi because you have a guy who's coming off ACL (surgery), hasn't missed a rehab session, eats right, eats clean, does everything he can for his body, works extremely hard to get to this point. Then you have something like this happen. So it's tough for him, for all the work that he puts in. I feel bad for him."
The Clippers trailed by as many as 13 points in the fourth quarter of Game 3 then made a late charge by using a small lineup for most of the final period that included Eric Gordon, Norman Powell, Russell Westbrook, Bones Hyland and Terance Mann
The energy and long-distance shooting ability got the Clippers back into the game, but they couldn't complete the comeback after pulling within three points at 119-116 with 1:44 to play
What they gained in energy and agility, the Clippers lost on the boards as the Suns had a 14-7 rebounding advantage in the fourth quarter, with eight of those Suns rebounds on the offensive end
Norman Powell had a playoff career-high 42 points for the Clippers, while Westbrook added 30 points, 12 assists and eight rebounds
"I think everybody has the experience and knows what it takes to win, has the will to win," Powell said. "When you put out the effort the way we did tonight, the way we do consistently, things are going to work out for us. I just think it's the culture that's been built with T. Lue and the guys. That's the biggest thing."
--Field Level Media