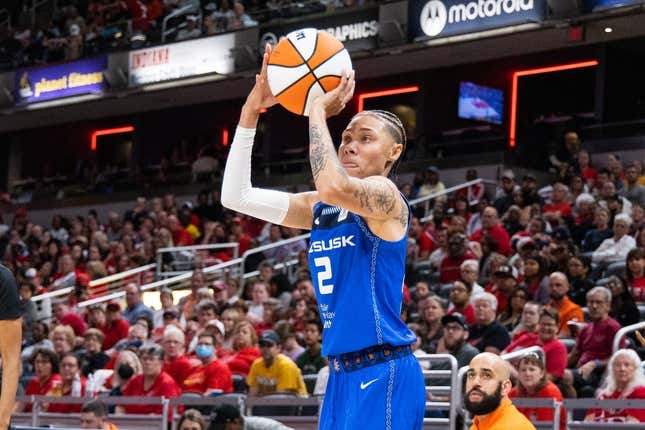 Natisha Hiedeman had never scored 20 points in a WNBA game before Thursday. Then she dropped 20 -- in the third quarter alone.
Is Texas or Florida State a bigger national title contender? | Agree to Disagree
After Hiedeman's outburst helped the Connecticut Sun beat the Atlanta Dream on Thursday, the teams will conclude their season series with a rematch Saturday afternoon in College Park, Ga
Hiedeman, a 26-year-old in her fifth WNBA season, scored 20 of her career-best 24 points in the third quarter Thursday by going 8-for-11 from the floor and 6-for-7 from behind the arc. Her hot shooting powered a 16-0 Connecticut run spanning the end of the third quarter and the start of the fourth, leading to an 82-71 win.
"I was just really seeing the rim and it got super big," Hiedeman told MassLive.com. "My teammates were finding me, I was getting wide-open shots and knocking them down."
The Sun (16-6) have won four of five games and are a half-game better than the New York Liberty for second place in the league. They need breakout performances like Hiedeman's after star forward Brionna Jones underwent Achilles surgery and was ruled out for the rest of the season
"She's tough as nails," Sun coach Stephanie White said of Hiedeman. "She's a tough kid. She wants to do well for her team. Each day it's going to be something different that she does but I think it speaks to her resilience.
Now the Dream (12-9) will seek revenge after Connecticut ended their seven-game winning streak. They were done in by 23 team turnovers that led to 16 Sun points
"We have got to value the basketball a little bit better in order to beat a team like Connecticut. They're too good," Atlanta coach Tanisha Wright said.
Rhyne Howard led the Dream with 22 points and Nia Coffey posted her second straight double-double, with 13 points and 13 rebounds
"I don't think I change anything about my preparation," Coffey said. "I just try to go hard every day in practice and games and just try to do whatever needs to be done."
DeWanna Bonner leads Connecticut with 18.1 points per game and Alyssa Thomas continues to fill the stat sheet with 14.8 points, 9.5 rebounds, 8.0 assists and 1.9 steals per game.
Howard is scoring 18.8 per game to lead Atlanta and Allisha Gray is right behind with 17.9.
--Field Level Media