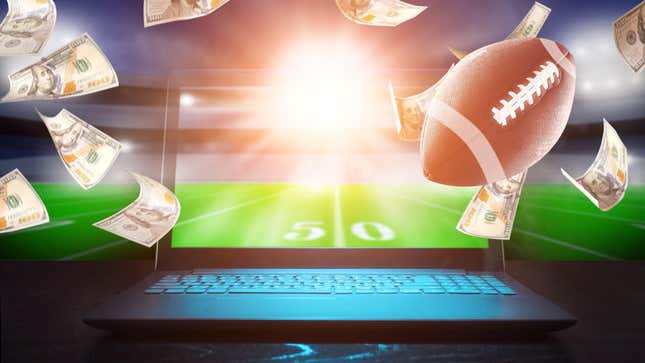 Happy Super Bowl day! It's finally here, the day we've been encouraged via a relentless advertising barrage, to indulge in every human delight from beer to tortilla chips to risky investments in cryptocurrency markets. Feels good!

Not that I'm here to cast a damper on the climax of extravagance, but by now we all know I'm not here to write some puff piece about how my childhood memories allow me to conclude the Super Bowl is, indeed, more than a game. But if you'd like to read that kind of tripe, the New York Times has commissioned this maudlin piece of puffery.
Nope, I'm here to remind you that every stoppage of play is another opportunity to part you from your money. As much as the NFL is the product being sold, so are you, and your attention.
And of course, your money.
Super Bowl audiences have long been targeted by advertisers, and in the era of NFTs and sports betting, it has never been truer. But in the five years since the Supreme Court allowed states to regulate their own betting markets, and a new spigot of legal revenue has been enabled in 36 states.
A rise in sports betting means a rise in gambling addiction
What's absolutely not shocking, is that the rush to sports betting gave little more than a legal disclaimer's worth of thought to the consequence this potentially addictive activity might cause, especially when an icon on your phone made placing a bet as easy as playing Candy Crush.
If you've been watching games this season, there is no escape from the sports betting advertisements; the apps, the casinos, and the "free" money that awaits you for signing up. The message is often delivered by a sports hero or a movie star, and even though betting is for those 21 and over, kids are getting the message too.
As the manager of the Indiana Problem Gambling Awareness Program at Indiana University in Bloomington, Ind., Professor Mary Lay has been looking into the effect of sports gambling on the college-age population. She notes that college is a time when students are inundated with offers for credit cards and engage in riskier behavior than adults. They see a barrage of messages on sports broadcasts and targeted on social media, and many can engage responsibly. But the downside might not be obvious.
She notes that you don't hear as much about the people who get into financial trouble because of gambling. "So in the media, we're not seeing the level of the problem," Lay said.
What's the problem with New Jersey?
More than half of states have legalized these betting markets, and one of the first was New Jersey.
"Sopranos" watchers might argue that New Jersey has always had sports betting, which was under the table and word of mouth. But with legalization comes data. New Jersey has released some of the numbers after four years of sports betting and one of the most eye-catching is the roughly $33 Billion that's been wagered in the state.
And each year, the numbers of people who bet on sports events go up. A Seton Hall poll this year found that 34 percent of sports fans planned to bet on the Super Bowl, up from 28 percent last year.

But a new study from Rutgers finds that gambling addiction in New Jersey is four times the national average. The study polled those in the state about gambling habits, from playing scratch-offs to slot machines, and found that one group was at higher risk of meeting the criteria for addiction.
"To me, there is no question that daily fantasy sports play is gambling," said Nia Nower, the director of the Rutgers-New Brunswick's Center for Gambling Studies at the School for Social Work. "What the study shows, however, is that, regardless of how it's classified, people who play daily fantasy sports are likely to also gamble at problematic levels and to have other serious mental health and addictive problems. Our findings suggest that not only should daily fantasy sports be regulated, but the industry should also contribute to the development and delivery of evidence-based treatment."
This is interesting, because technically daily fantasy isn't sports betting. It's considered a game of skill and not chance, which makes perfect sense every season until your two starting running backs get season-ending MCL injuries. So I guess I'll leave that for other people to debate.
But more pointedly about the state-directed study and its effect, other than finding someone who is more of a black cloud on this topic than I am, is that a state which went all-in on sports betting is about to go all-in on resources for addiction.
This week the state announced it will compel sports betting companies to track betting behavior and identify problem gamblers. It's an unapologetically Big Brother approach that would target betters who, for example, often keep betting until they have less than $1 in their accounts. But the intervention might just be having the bettor watch a video before they could start placing more bets.
An op-ed from the Christian Science Monitor notes that New Jersey is "solving a problem it helped create," and it's not clear how effective these interventions will be.
Plenty of people will bet on the Super Bowl, and for the great majority it will be a fun part of the overall experience. And it's one of a few previously characterized vices that have been decriminalized. Maybe next year the Super Bowl will have an official cannabis partner.
I mean, think of the potential for the commercials.
Julie DiCaro contributed to this report.