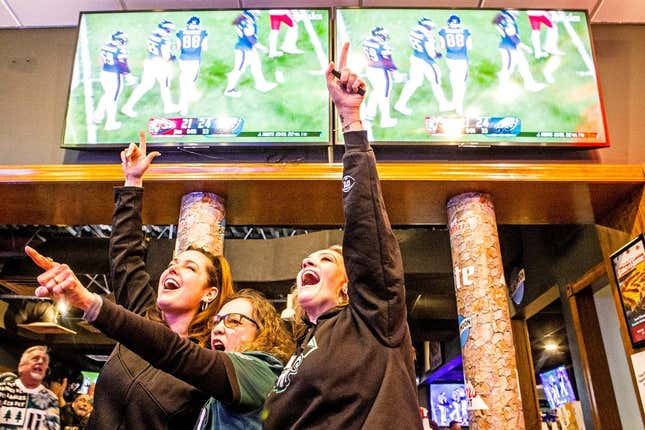 The Kansas City Chiefs' victory over the Philadelphia Eagles in Super Bowl LVII was the most-watched U.S.-based telecast of all time, according to revised Nielsen ratings released Tuesday.
Air Jordans are more American than McDonald's French fries | Deon Cole's Ultimate Sports Fantasy
The Chiefs' 38-35 win on Feb. 12 at State Farm Stadium in Glendale, Ariz., drew an average of 115.1 million viewers across all platforms -- nearly 2 million more than Nielsen's previous announcement in February.
The updated numbers surpass the previous record of 114.4 million viewers for the New England Patriots' win over the Seattle Seahawks at Super Bowl XLIX on Feb. 1, 2015.
Tuesday's change was "the result of a thorough review by Nielsen that revealed irregularities in the encoding that enables Nielsen's measurement of TV viewing as well as in the measurement of out-of-home viewing," Fox Sports said in a statement.
Nielsen's numbers include viewers who either watched Super Bowl LVII on the Fox or Fox Deportes TV networks or streamed the game on Fox digital properties or NFL+.
The "irregularities" were initially identified by the NFL, which informed Nielsen that the league-owned NFL Network might be getting credit for viewers who actually watched the game on one of the Fox platforms.
--Field Level Media