Seahawks take a 3-0 lead into the second quarter. We're still reeling from seeing Jay Mohr in that commercial. Live blog continues after the jump.
0:00: Field goal just missed. A completely bewildering first half. Your thoughts?
0:07: Someone here just said the phrase: "Matt's vectors are all off." Math is fun.
0:35: Hey, look, Donovan McNabb is calling plays for the Seahawks.
1:04: Nope. Sorry. He wasn't in bounds. It's fun to see Matt Hasselbeck fired up, though.
G/O Media may get a commission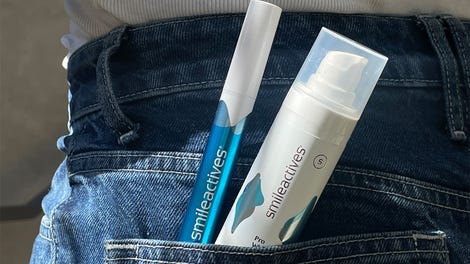 58% off
Whitening Powerhouse Pen & Gel Duo
1:10: To repeat, in case you missed it, from Suzy Kobler earlier: "They had him behind towels so that they could pull down his pants and tape up his groin."
1:45: Roethlisberger leaps over the top, and sorry, Seattle fans: We think he's in. And we're right. What an unworthy 7-3 lead. Steelers 7, Seahawks 3.
2:00: The Seahawks save us much headache by mercifully stopping Jerome Bettis from scoring. Thank you, Seattle; thank you.
3:09: Hines Ward makes up for his drop with a goofy, backyard type of play that puts the Steelers at the Seahawks' three. Somehow, the Steelers could end up with the lead at halftime, which is extremely ominous for Seahawks fans. Meanwhile, the GoDaddy ad just made us long for the Dove ad, which is depressing us.
3:50: Grant Wistrom, not dressed up like this, makes a huge sack.
4:42: Jerome Bettis catches a pass. If there were ever a guy who should do the "ball-hidden-under-the-jersey" trick, it's obviously Bettis.
5:21: Roethlisberger is back to looking like this year's playoff version than last year's. We will say that we were absolutely shocked Hines Ward dropped that ball, though.
8:15: Antwaan Randle El just grossed out everyone in the room. He appears to be OK, though there was a brief "Holy shit, he'd dead moment." But you think that was gross? It was followed by Tim Allen (and Chris Berman!) in The Shaggy Dog. We think we just puked up our four-layer dip.

9:15: That was amazing: Every woman in here just had their self-esteem shoot up 76 percent. Thanks, Dove!
10:02: Terrible interception by Roethlisberger, who is, we feel obliged to point out, not drunk. But it's ugly out there in Steeler land; they're very fortunate to just be down 3-0.

11:19: Steelers finally get a first down. And then they get another one. And nothing will ever be funnier than when a monkey does an activity that is ordinarily reserved for humans.
12:03: Some extremely cool guy at the party we're at just read a poem about football from Harold Pinter. Here it is. We like that we're at a party where people are reading football poems, though we're not sure why.
12:34: Nobody spits water like Sweet Shawn Alexander.
13:35: We're still waiting for that big Joey Porter hit on Jerramy Stevens. Isn't he supposed to be really pissed? Where was he there?