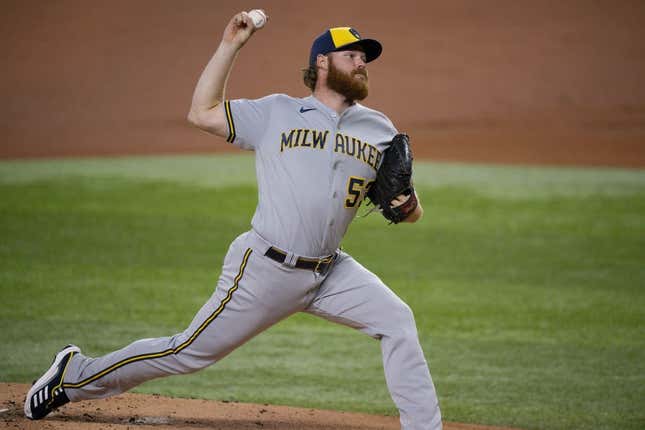 The Milwaukee Brewers will try to match their longest winning streak of the season when they open a three-game series against the visiting San Diego Padres on Friday.
How running an NFL team is like running a restaurant | Chef Emeril Lagasse
The Brewers have won five in a row to climb 13 games above .500 for the first time in more than a year.
The Brewers are trying to hold off the Chicago Cubs and Cincinnati Reds for first place in the NL Central.
"It's like anything, you just have to stay in the fight," manager Craig Counsell said after Milwaukee beat the Minnesota Twins 8-7 in 10 innings Wednesday. "We've been rewarded for staying in the fight. It hasn't always been super hard contact, but we stayed in the fight and got positive results."
The Cubs had won four of five heading into Thursday's series opener against the Pittsburgh Pirates, and the Reds swept the Los Angeles Angels in a three-game series before heading to Phoenix for four games against the Arizona Diamondbacks beginning Thursday night.
Milwaukee's current winning streak includes a three-game sweep at the Texas Rangers, who are trying to hold on to their lead in the AL West, and two in a row against the Twins, who lead the AL Central.
"We're playing good baseball. That's what it's going to take to beat good teams," Brewers pitcher Corbin Burnes said. "That's another first-place team we played (Wednesday), and for us to make a deep postseason run and eventually win this World Series, we're going to have to put good ABs together against really good pitchers. We've done that the last five days."
The Padres are coming off a three-game series against the visiting Miami Marlins. San Diego took two of three, which allowed it to finish 5-5 on the homestand.
Padres manager Bob Melvin called Wednesday's 4-0 victory against the Marlins a must-win.
"Look, all of them are important now, in the position we've put ourselves in, but against these guys, to lose two out of three would've been an even tougher road," Melvin said.
The Padres hurt their playoff chances by losing five of seven to the Diamondbacks over the past two weeks, but they still entered Thursday six games back of the final NL wild-card berth.
"We obviously can do better," Padres shortstop Xander Bogaerts said. "Sucks that the games that are played, you can't play it over, so you've got to live with the results and move it forward. It's Milwaukee, and then St. Louis."
The Padres plan to start Yu Darvish on the mound for the series opener.
Darvish (8-9, 4.35 ERA) is 0-2 in four starts this month with a 3.60 ERA.
He's 2-4 in nine career starts against the Brewers with a 2.09 ERA.
Milwaukee plans to counter with fellow right-hander Brandon Woodruff (2-1, 2.89), who has made three starts since coming off the 60-day injured list because of a shoulder strain. He went 1-1 in those games with a 4.32 ERA.
He most recently went 5 1/3 innings against the Rangers last Friday, allowing four runs and three hits without a decision in the 9-8 victory.
Woodruff has made five appearances against the Padres in his career, including four starts, and is 2-1 with a 2.35 ERA in those games.
—Field Level Media