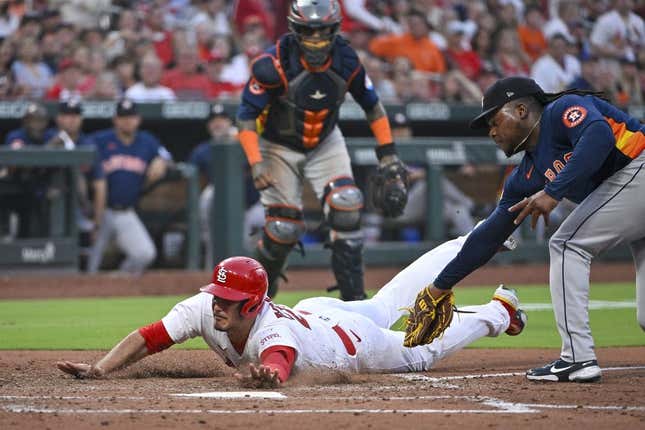 Houston Astros starting pitcher Cristian Javier suffered an uncharacteristic loss of command during his most recent start
How running an NFL team is like running a restaurant | Chef Emeril Lagasse
He walked a career-high five batters and seemed mystified after the June 21 game against the New York Mets.
"I really don't even know what to tell you what was going on today," he told reporters after the game. "I was falling behind a lot of hitters and missing with a lot of pitches."
Javier (7-1, 3.25 ERA) will try to restore order on Wednesday when he faces the Cardinals in St. Louis in the middle contest of a three-game set
The Cardinals won the opener 4-2 Tuesday while handing the Astros their eighth loss in their last 11 games
The Astros eventually beat the Mets 10-8 in Javier's start last week. He allowed four runs on four hits and the five walks while needing 82 pitchers to retire just seven batters
"I don't know, he was high, high and more high," Astros manager Dusty Baker said of the location of Javier's pitches
The 2 1/3-inning stint was the shortest start of Javier's career. He will try to get back on track in his first career start against St. Louis.
The Cardinals have won six of their past eight games while trying to climb out of the National League Central cellar. They rallied from a 2-0 deficit Tuesday while shaking off their jet lag from two games in London
"No one's going to care how we feel today," Cardinals manager Oliver Marmol said. "Jet lag, it doesn't matter. We fall behind 2-0, we have to find a way to fight back and that's all that matters and they were able to do that
"At the end of the day, you still have to find a way to win. To their credit, they didn't give in and they continued to fight."
The Cardinals will start Miles Mikolas (4-5, 4.23), who is coming off a tough-luck 3-0 loss at Washington on June 21. He held the Nationals to two runs on eight hits over seven innings in rainy conditions
"I thought I commanded the fastball pretty well early," Mikolas told the St. Louis Post-Dispatch. "They hit a couple balls pretty hard, but we had our defense positioned pretty well. A few got away from me.
"It was kind of fun, but a little challenging throwing in the rain. Kind of like being a kid in the backyard, playing in the summer. Not a terrible game. Kept us close for most of the game and it's just a tough game overall."
In his two starts prior to that loss in Washington, Mikolas allowed 11 runs on 15 hits and three walks over 12 innings. The Cardinals have scored just 10 runs in his past six starts, and he's 2-4 in that span
Mikolas is 0-1 with a 10.80 ERA in two career starts against the Astros
The Astros hope to get second baseman Jose Altuve back in the lineup for this game. He sat out Sunday and Tuesday with a sore heel, an injury he suffered Saturday while running out a single
--Field Level Media