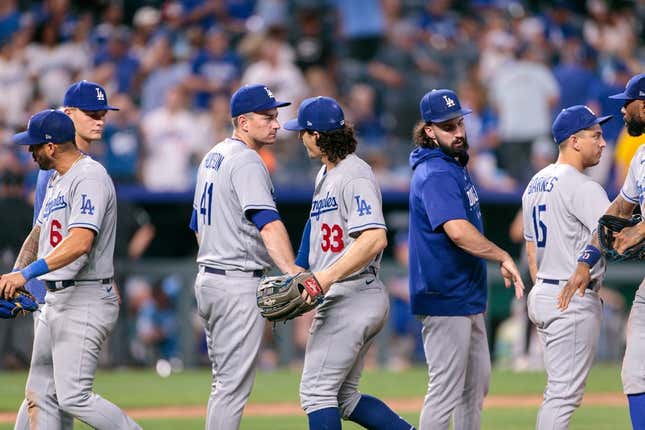 Reaching the season's halfway point, the Los Angeles Dodgers hope to capture their fourth consecutive series on Saturday against the host Kansas City Royals
Is Texas or Florida State a bigger national title contender? | Agree to Disagree
The Dodgers have won seven of their past nine games since getting swept by the San Francisco Giants on June 16-18
Los Angeles will look to continue to take advantage of two last-place teams during its current six-game road trip. The Dodgers won two of the three meetings against the Colorado Rockies prior to traveling to Kansas City
"The expectation to win doesn't change," Dodgers manager Dave Roberts said prior to his team's 9-3 win over the Royals on Friday. "These two teams are trying to find their way. You still have to go out there and play, but we've got to win games like this.
Los Angeles' bats are heating up with 28 extra-base hits -- including 11 home runs -- while scoring 49 runs over their past six games.
Mookie Betts, Freddie Freeman, and J.D. Martinez provided the most damage, combining for seven homers, six doubles and 24 RBIs in the span.
"We go off his energy, his performance," Roberts said after Betts homered twice while driving in four runs on Friday. "He got us going again tonight and the guys fed off that."
"Leading off the game there with a homer gave us a little bolt of energy," Betts said. "We rode it for all nine."
Los Angeles' Julio Urias (5-4, 4.39 ERA) will return from the 15-day injured list to oppose fellow left-hander Daniel Lynch (1-3, 3.96) on Saturday evening.
A left hamstring strain sidelined Urias since May 18 when he surrendered six runs on as many hits in three innings. He made a four-inning rehab start for Low-A Rancho Cucamonga on June 25, striking out eight. Urias has yet to face the Royals in his career
Lynch is coming off two solid starts against the Detroit Tigers and Tampa Bay Rays, allowing a total of one run on seven hits in 13 innings.
In his lone career start against the Dodgers on Aug. 12 of last year, Lynch allowed two hits and struck out four over five scoreless innings in a no-decision
Recalled Friday from Triple-A Omaha to make his major league debut against the Dodgers, right-hander Alec Marsh became the Royals' 15th different starting pitcher, most in the majors and two fewer than the most ever used in franchise history (17, in 2006). Only six starters have collected a victory
Kansas City starters are 11-40 with a 5.49 ERA. Only the Oakland Athletics have fewer wins, eight, from starters, and the Royals' 13 quality starts are fewest in the majors. Since Kansas City last won a series, May 15-17 at San Diego, starters are 3-14
In their search for pitching, the Royals traded fireballing lefty reliever Aroldis Chapman to the Texas Rangers on Friday for left-hander Cole Ragans and minor-league outfielder Roni Cabrera
A 2016 first-round Rangers' draft pick, Ragans made 17 relief appearances this year after nine starts last year. He was assigned to Omaha.
"It was 'let's get the best return'," Royals general manager J.J. Picollo said. "If it's a major league return, that's great. If it's a minor-league return, let's build that out as well. It just so happens this team had a player that had major league experience and a lot of years of team control as well.
--Field Level Media