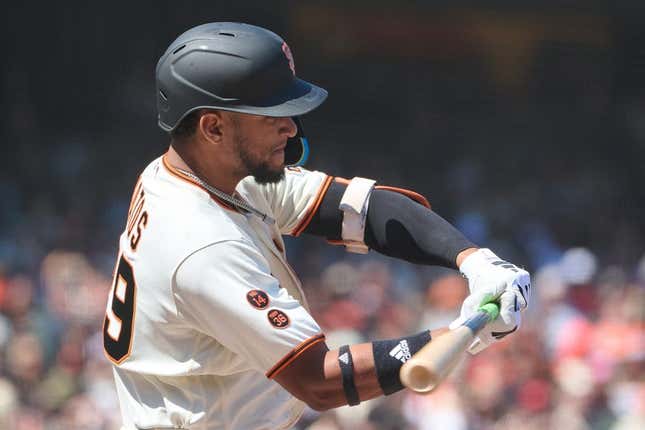 The Giants will get an opportunity to move within a half-game of the National League West-leading Arizona Diamondbacks on Sunday when the clubs complete a three-game series in San Francisco
How running an NFL team is like running a restaurant | Chef Emeril Lagasse
Having seen a 10-game winning streak end Thursday in their series finale against the San Diego Padres, the Giants have bounced back with 8-5 and 7-6 victories in the first two games of the set against the Diamondbacks
San Francisco, which was 8 1/2 games out of first place after losing 2-1 at Arizona on May 14, has become a serious contender by winning 27 of 37 since then.
In what has been a high-scoring series, Sunday's pitching matchup will feature two starters who have struggled of late.
The Giants are scheduled to go with right-hander Anthony DeSclafani (4-6, 4.38 ERA), who allowed eight runs and 15 hits in eight innings over his last two starts. He's 0-2 with a 7.94 ERA in four outings in June
DeSclafani, 33, is 4-3 with a 3.14 ERA in 10 career starts against the Diamondbacks despite taking the loss in a 7-2 defeat in Phoenix on May 13 in which he allowed three runs in five innings
The Giants could use a bounce-back effort from the veteran after exhausting six relievers over the final eight innings of Saturday's win. That counts Luke Jackson, who threw five pitches in the sixth inning before having to leave the game with back tightness
Manager Gabe Kapler gave twin brothers Taylor Rogers and Tyler Rogers kudos for their combined shutout effort in the sixth, seventh and eighth innings.
"They're the big story in today's game," Kapler said. "Nobody likes to come into the middle of an inning and get loose on the mound. That's challenging for relievers ... a little bit of a foreign experience. And he (Taylor Rogers) was electric.
"And Tyler ... I think that was the gutsiest part of the game. We had no intention of having him pitch two innings. Really, that's what won the game for us."
DeSclafani is slated to be opposed by fellow righty Ryne Nelson (3-4, 5.31), who allowed a total of eight runs and 16 hits over nine innings in losses to the Philadelphia Phillies and Milwaukee Brewers.
Nelson, 25, received a no-decision in a 7-5 home win over the Giants last month, allowing four runs in 4 2/3 innings. It was his first career start against San Francisco
Arizona manager Torey Lovullo thinks better days lie ahead for the inexperienced starter.
"He's a young pitcher, and he's developing and continuing to get better, so it's all going to come together at some point," Lovullo predicted. "The swing-and-misses are showing up again. But I just think there's some middle-middle mistakes."
Nelson would be wise to pitch carefully to rookie Luis Matos, who hit his first career homer on Saturday.
"Really good contact hitter. It's one of the things we're noticing," Kapler said. "He's got really good bat-to-ball skills, a really good understanding where the sweet spot is on the bat. Nice to have a hitter down at the bottom of the lineup that can do that kind of damage."
--Field Level Media