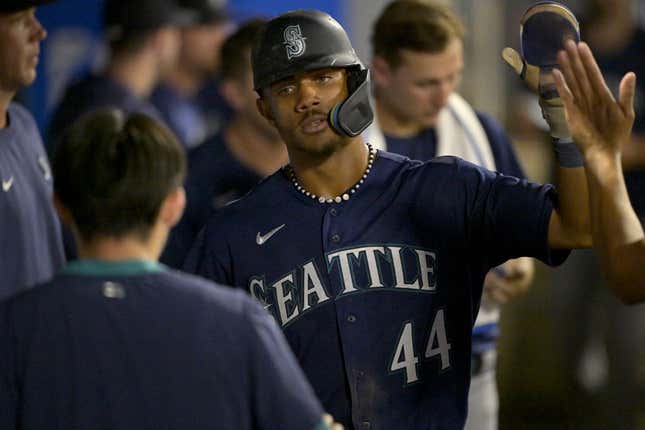 Julio Rodriguez got mad Saturday night ... and then he got even
Rodriguez went 3-for-4 with two doubles and two RBIs to lift the Seattle Mariners to a 3-2 win over the Los Angeles Angels in Anaheim, Calif
Is Texas or Florida State a bigger national title contender? | Agree to Disagree
The Mariners will attempt to sweep the four-game series between American League wild-card contenders on Sunday
After reaching on a fielder's choice in the first inning Saturday, Rodriguez stole second as the throw from catcher Chad Wallach sailed into center field. Rodriguez was unable to advance as leaping second baseman Brandon Drury's spikes landed on Rodriguez's hand. To make matters worse for Rodriguez, he was sent back to first base because plate umpire Quinn Wolcott ruled he had interfered with Wallach's throw
Rodriguez tried to steal again but was thrown out to end the inning. Mariners manager Scott Servais challenged the call, but it stood after a video review
As Rodriguez returned to the dugout, a heckler behind the first-base dugout appeared to irritate him, and he had to be calmed by Servais and third baseman Eugenio Suarez before taking his spot in center field
"Just the heat of the moment," Rodriguez said
Servais said he didn't mind Rodriguez's show of emotion
"There was a lot of things going on and people have a tendency to yell things," Servais said. "Julio's very passionate, very fiery, and I love it. And he let his bat do the talking after that.
Rodriguez hit a two-run double off the top of the wall in left field in the third inning. He scored what proved to be the decisive run in the eighth after beating out an infield single
"When Julio is playing like this, we're just different," Servais said. "He's on base all night long. He's creating havoc. Wants to steal bases. Wants to be in the mix all the time. He's that kind of player. He's exciting. He's fun to watch, and when his bat gets going, he can really carry a ballclub.
The Mariners have won four in a row and nine of their past 11 games to pull within 2 1/2 games of Toronto for the AL's third and final wild-card berth
The Angels, meanwhile, have dropped five straight after making a flurry of moves at the trade deadline in an effort to make the playoffs before Shohei Ohtani becomes a free agent in the offseason
Los Angeles got some bad luck in the ninth inning Saturday as Drury's shot to left bounced over the wall for a ground-rule double, preventing the tying run from scoring
"Ball just barely jumps over the fence, otherwise it's a tie game right there," Angels manager Phil Nevin said. "They say it's a game of inches or whatever you want to call it, and it certainly bit us today.
The series finale will feature a pair of young right-handers in Seattle's Bryce Miller (7-4, 4.35 ERA) and Los Angeles' Chase Silseth (3-1, 3.99), both of whom will make their first appearance against the opposition
Miller had a four-game winning streak snapped in a 6-4 loss to the visiting Boston Red Sox on Tuesday, when he allowed six runs on seven hits in 5 2/3 innings
Silseth has won his past two starts after allowing a total of two runs on seven hits in 10 2/3 innings
--Field Level Medi