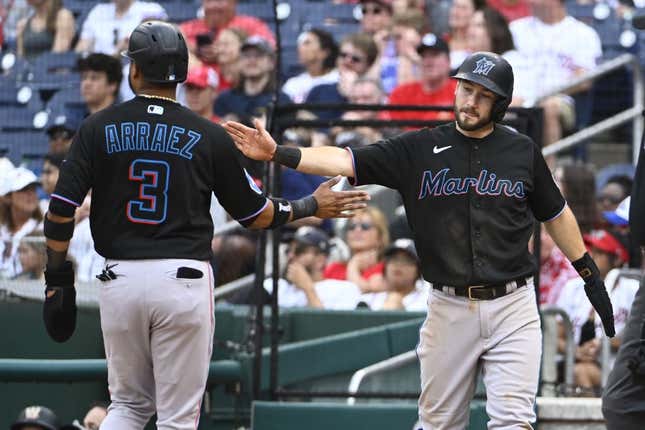 The Miami Marlins look to remain perfect against the host Washington Nationals by sweeping them for the second time this season on Sunday
How running an NFL team is like running a restaurant | Chef Emeril Lagasse
After taking three straight against the Nationals in Miami from May 16-18, the Marlins followed Friday's 6-5 win with a 5-2 victory on Saturday
At 40-31, the Marlins are nine games over .500 for the first time since July 31, 2016
"Playing winning baseball, it's freaking awesome," said Braxton Garrett, who allowed one run over six innings to pick up the win on Saturday. "It's fun being in the dugout. It's just a fun team to be around all the time. Obviously winning cures all and we're finally getting a good taste of it."
Miami's Luis Arraez went 1-for-4 with an intentional walk on Saturday after going 5-for-5 with a home run a night earlier. He's hitting a major league-leading .388.
Joey Wendle went 2-for-4 with a double and Bryan De La Cruz broke an 0-for-21 skid with a ninth-inning, two-run single for the Marlins, who had as many walks (seven) as hits. Jorge Soler went 1-for-2 with an RBI and three walks for Miami
Washington's bullpen cost it dearly on Saturday. Miami scored runs on a bases-loaded walk and a wild pitch in the seventh to break a 1-1 tie.
Washington's 27 wins overall and 12 home victories are the fewest in the National League.
"It's almost like we've got to play perfectly," said Washington manager Dave Martinez, whose team has dropped 10 of its past 12 games. "And that's tough to do every night. If we don't chase, do some other things, the outcome might be a little better. We've got to keep playing hard."
The Marlins will look to maintain their dominance of the Nationals this season on Sunday behind Jesus Luzardo (5-5, 4.17 ERA)
The left-hander was rocked in his last start, allowing six runs -- five earned -- on six hits with three strikeouts and a walk in just four innings during an 8-1 loss to the host Seattle Mariners on Monday.
"I feel like that's our job, go in there and set the tone ... and keep our team in the ballgame," Luzardo said. "And when we don't do that, it's frustrating as a starting pitcher."
However, Luzardo pitched much better the last time he faced Washington. He allowed just a run on five hits with seven strikeouts and a walk in six innings, but he didn't factor into the decision in the Marlins' 5-4 walk-off win over the visiting Nationals on May 16
The Nationals counter with Patrick Corbin (4-7, 4.81). The veteran left-hander allowed two runs on four hits with five strikeouts and a season-high five walks over five innings in a 6-1 loss at the defending World Series champion Houston Astros on Tuesday
Corbin didn't face the Marlins in the teams' first series of the season, but he's 5-6 with a 4.02 ERA against Washington in 17 appearances -- all starts -- spanning 107 1/3 innings in his career
--Field Level Media