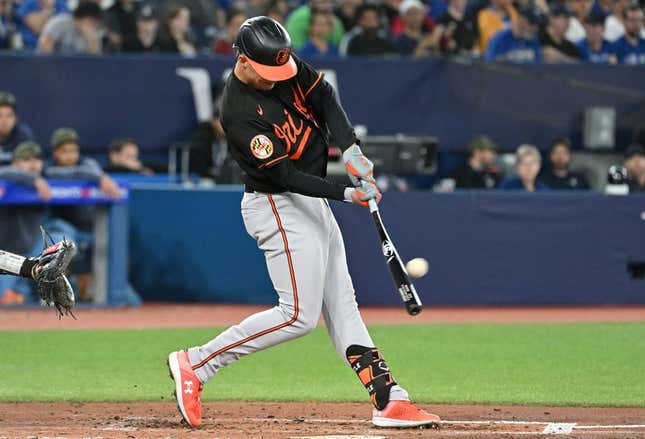 The visiting Baltimore Orioles will be out to clinch their three-game series against the American League East rival Toronto Blue Jays on Saturday afternoon
Air Jordans are more American than McDonald's French fries | Deon Cole's Ultimate Sports Fantasy
The Orioles won the first meeting between the teams Friday night 6-2 led by Ryan Mountcastle's three-run home run and seven strong innings from right-hander Kyle Gibson
The Blue Jays dropped to 4-4 with two games left on their 10-game homestand. They are 5-10 in the division
Toronto will look for improvement from struggling right-hander Alek Manoah (1-4, 5.40 ERA) on Saturday. He is winless in his past seven starts, and he is 0-3 with a 7.98 ERA in three starts this month.
"You want him to turn it around," Blue Jays manager John Schneider said this week. "We need him to turn it around and get back to where he was.
Manoah said, "This game will punch you right in the mouth. My job is to show up every day and give this team a chance. Right now, the game's just testing me. You find out who's who when things aren't going well. The message is just keep going. Things will start clicking.
"My routine has made me who I am. I take a lot of pride in that and I'll continue to take a lot of pride in that and continue to make adjustments and right the ship."
In eight career starts against the Orioles, Manoah is 3-1 with a 2.87 ERA
Baltimore right-hander Grayson Rodriguez (2-1, 6.57 ERA) will start against the Blue Jays for the first time in his career. He also has struggled in May, going 1-1 with an 11.37 ERA
The Orioles started to emerge as contenders last season after losing 110 games in 2021
"Well, it's a lot more fun, but it's still really early," Baltimore manager Brandon Hyde said. "We still have so much baseball to play. I'm just looking one game, one series at a time. ... I think last year our guys got some confidence going within the division, and they just carried it into this year."
Schneider said of the Orioles, "They're having a good start to the season, a lot of the same guys as last year. Their bullpen is really good, and I think the key to this is getting to their starters, having good at-bats early in the game, driving up some pitch counts and trying to avoid some of those late-inning guys.
Mountcastle continued to excel against the Blue Jays on Friday. He homered off Toronto starter Yusei Kikuchi for the fourth time in his career, his top total against any pitcher
"I've just had the benefit of getting good pitches to hit against him," Mountcastle said. "It seems like he's been doing pretty well this year. To get a good pitch to hit against him today was big."
In 43 career games against Toronto, Mountcastle is hitting .323 (53-for-164) with eight doubles, 15 home runs and 36 RBIs.
"Any AL East series is going to be big," Mountcastle said. "For us to come out here and get a first game 'W' is huge. We've got a tough matchup (on Saturday) with Manoah, and we're excited to try and win this series (on Saturday)."
Gibson's lengthy outing was important because the Orioles' bullpen had been taxed recently
"That was the start we needed," Hyde said. "That was awesome. To go seven innings against that club in his ballpark, couldn't ask for anything more. ... So happy with Kyle. The sinker was really working, he mixed speeds so well. Just threw an unbelievable game for us."
--Field Level Media