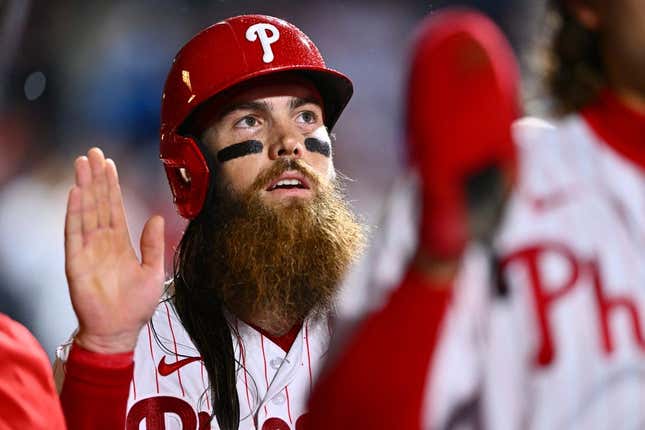 In the midst of a roller coaster season, the Philadelphia Phillies are trending in a positive direction
How running an NFL team is like running a restaurant | Chef Emeril Lagasse
After losing two straight to the National League East-leading Atlanta Braves earlier this week, the Phillies bounced back for a 5-1 victory over the New York Mets on Friday
Even with those two setbacks against the Braves, the Phillies have won 14 of 18 and have put themselves back in playoff contention. They will look for another win when they host the Mets again on Saturday
In Friday's victory, Trea Turner laced a two-run single and Brandon Marsh had three hits and an RBI.
Turner has been inconsistent with the Phillies since signing an 11-year, $300 million deal in the offseason. He is hitting just .244 with seven homers and 24 RBIs through 74 games
"I think we can be the best team in baseball," Turner said in a postgame interview on Apple TV. "We expect a lot out of ourselves."
The Phillies have been resilient since manager Rob Thomson took over following a 22-29 start last season. Joe Girardi was fired and the Phillies went on to come within two victories of a World Series title
Philadelphia started 25-32 this year but has since rallied.
"(The Friday game) was a big one especially after the last two games against the Braves," Turner said. "It was a big win and a good team win. Everybody contributed."
The Phillies will hand the ball to Cristopher Sanchez (0-0, 3.24 ERA) on Saturday. The left-hander is 0-1 with a 5.40 ERA in three career games, including one start, against the Mets
In his latest start, on June 17 against the Oakland Athletics, Sanchez threw four scoreless innings. He might have lasted longer if a comebacker hadn't ricocheted off his pitching hand. X-rays were negative.
The reeling Mets will enter the Saturday game having dropped 14 of 18. They have careened to 34-41 in a season that began with high expectations and an expensive payroll
Errors and mental mistakes continue to haunt the Mets
In the Friday loss, Brandon Nimmo committed an error in center field. There was also an unusual play when left fielder Tommy Pham and shortstop Francisco Lindor allowed a ball to drop between them, and it turned out to be an RBI single by Marsh.
"Tommy's been playing well out there," Mets manager Buck Showalter said. "Just a miscommunication from two players who normally make that play easily.
During the current skid, those are the types of plays that have proved costly.
"Everybody is trying to make the perfect play, be everything to everybody every night," Showalter said. "The 'want to' is through the roof -- sometimes through that, you push for some things that aren't there."
Nimmo's solo home run was the lone offensive production for the Mets
"We're a much better team than we're showing right now," Lindor said. "Hopefully we turn the corner at some point. We've said it enough times. We have to do it. I put myself at the top of that list."
Earlier on Friday, New York traded switch-hitting infielder Eduardo Escobar to the Los Angeles Angels for two minor league pitchers.
The Mets had Carlos Carrasco lined up to start Saturday but changed their rotation and will now send Max Scherzer (6-2, 4.04 ERA) to the mound instead
The last time out, Scherzer allowed four hits and one run in eight innings during an 11-1 win over the Houston Astros on Monday. He struck out eight and walked one.
Scherzer has enjoyed plenty of success in his career vs. the Phillies, going 17-5 with a 2.56 ERA in 30 starts. He has more wins against Philadelphia than against any other team
--Field Level Media