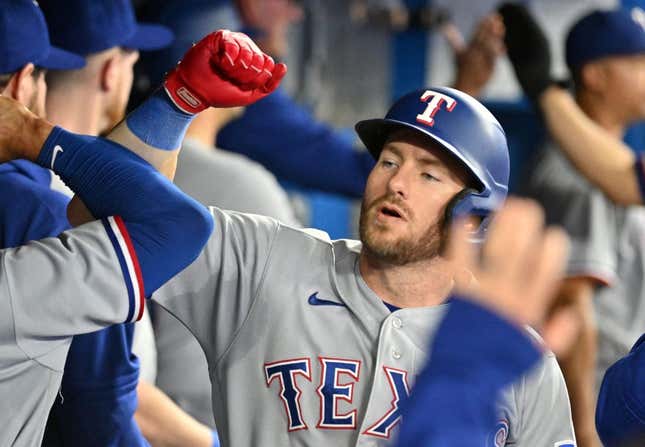 The visiting Texas Rangers will be out to clinch their four-game series and improve their position in the tight American League wild-card race when they oppose the Toronto Blue Jays on Wednesday night.
How running an NFL team is like running a restaurant | Chef Emeril Lagasse
The Rangers, who defeated the Blue Jays 6-3 on Tuesday, have taken the first two games of the series, giving them a four-game winning streak.
As a result, the Rangers (80-64) currently occupy the second AL wild-card spot, as they are a half-game ahead of both the Blue Jays (80-65) and the Seattle Mariners (80-65).
Texas cliched the season series with Toronto, giving the Rangers a tiebreaker edge. The Rangers also moved within one game of the first-place Houston Astros (82-64) in the AL West.
There was one negative for the Rangers on Tuesday, however. Right-hander Max Scherzer pitched 5 1/3 scoreless innings to earn the win but left the game due to spasms in his right triceps.
"When I got on the mound and was trying to go through my motion, I could just tell it didn't release," Scherzer said. "I could feel I just wasn't going to be able to throw another baseball."
Rangers manager Bruce Bochy added, "We did not want him to pitch through it. We were not going to take any chances there. It's too bad because he really had good stuff."
Scherzer will undergo further testing.
Texas is scheduled to start left-hander Jordan Montgomery (8-11, 3.62 ERA) on Wednesday. He is 4-1 with a 4.00 ERA in 11 games (10 starts) against Toronto. His first start this season was against the Blue Jays on April 2, when he was with the St. Louis Cardinals. Montgomery allowed three runs and six hits in five innings to earn a win.
Toronto will counter with left-hander Yusei Kikuchi (9-5, 3.57). He is 3-0 with a 3.48 ERA in five career outings (four starts) against Texas.
Robbie Grossman hit a two-run home run on Tuesday for the Rangers, his 300th career extra-base hit.
Texas shortstop Corey Seager had three hits, including two doubles, and one RBI. His first hit was No. 1,000 in his career. In 17 career games against Toronto, he is batting .457 (32-for-70) with 13 doubles, a homer and 15 RBIs.
Rangers catcher Jonah Heim had a sacrifice fly and single on Tuesday, a day after he tied his career high with five RBIs. He is showing that he is over the left wrist tendon strain that put him on the injured list from July 27-Aug. 12.
"(Heim is) a big part of our lineup," Bochy said. "Obviously, he dealt with that injury, and it's been a tough go for him to get going. But (Monday) was a great sign. We need this guy. When you look at our success for the most part of the season, he was right in the middle."
Rookie Davis Schneider continues to be one of Toronto's productive hitters in a struggling offense. He had a solo homer (No. 8) and a double (No. 10) on Tuesday in his 25th major league game.
However, the top three batters in the Toronto lineup — George Springer, Bo Bichette and Vladimir Guerrero Jr. — went a combined 1-for-12 on Tuesday.
"I thought we had our pitches to hit and just didn't get it done," Blue Jays manager John Schneider said. "We just haven't really strung the hits in a row together so far."
The Blue Jays put first baseman Brandon Belt (back spasms) on the injured list on Tuesday and recalled outfielder Nathan Lukes from Triple-A Buffalo.
—Field Level Media