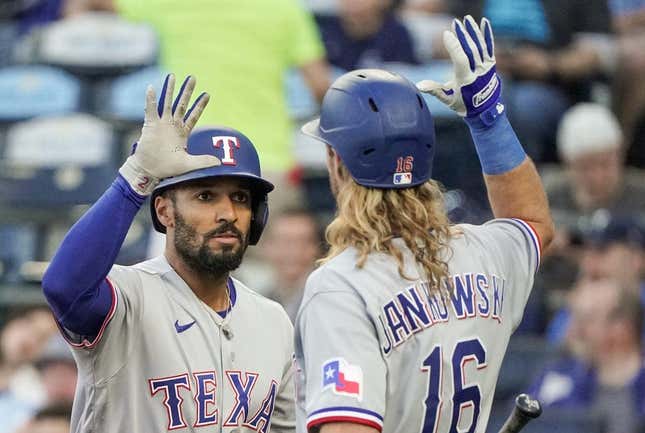 Off to their best 18-game start since 2013, the Texas Rangers will try to maintain their momentum when they begin a three-game series against the visiting Oakland Athletics on Friday in Arlington, Texas
Texas improved to 12-6 after completing a three-game sweep of the Kansas City Royals with a 12-3 victory on Wednesday. The Rangers have won four straight and boast the second-best run differential in baseball
Second baseman Marcus Semien has 11 RBIs over his last five games for Texas, which went 5-1 on its road trip against the Houston Astros and Kansas City. The Rangers' offense has come to life despite the absence of shortstop Corey Seager, who is out with a left hamstring strain
"Everybody is starting to get hot, especially the position players," Semien said. "It was a big road trip for us with all our injuries and definitely a confidence boost."
Texas could gain even more confidence against Oakland, which owns the majors' worst record at 3-16. The only other team in franchise history to lose 16 of 19 games to open the season was the 1951 Philadelphia A's.
Oakland's bullpen allowed 10 runs in a 12-2 loss to the Chicago Cubs on Wednesday. The Athletics have lost seven straight and have a run margin of minus-86, which ranks worst in the majors
"It's easy to get down. It's easy to start pointing fingers in this situation," Oakland manager Mark Kotsay said. "I think our focus is on finding the positives and building on those with these young players."
The Athletics made several roster moves on Wednesday, including placing outfielder Ramon Laureano on the 10-day injured list with a strained left groin. Laureano is hitting .218 with two homers and four RBI in 15 games
Oakland also placed reliever Trevor May on the 15-day injured list with issues related to anxiety. He has a 12.00 ERA in six innings across eight games.
"It's the right thing to do for someone that's really struggling, in terms of the anxiety," Kotsay said. "We completely support the mental health side. For Trevor, this is the right thing and we're definitely very supportive of it."
The Rangers will send right-hander Jon Gray (1-1, 3.21 ERA) to the mound for the series opener. He received a scare last Saturday, when he exited his start in the third inning with a bruised forearm after being hit on the throwing elbow with a comebacker
"I thought my arm was broken," Gray said. "Because it sounded so bad and I didn't really see the ball much, it sounded like it was all bone. I just kind of just expected it to be broken, but it didn't turn out to be that bad, so I'm lucky."
Gray, 31, enters Friday's start with 996 career strikeouts, and is seeking to become the 40th active major league pitcher to reach 1,000 career strikeouts.
Aledmys Diaz is 2-for-11 against Gray, who is 1-1 with a 5.87 ERA in three career starts versus Oakland.
The A's have lined up lefty JP Sears (0-1, 4.60 ERA) to start Friday against Texas. He's 1-0 with a 5.00 ERA in two career starts against the Rangers
The Athletics made news by announcing the signing of a binding agreement to purchase a plot of land in Las Vegas, which is expected to serve as the site of their future new ballpark
--Field Level Media