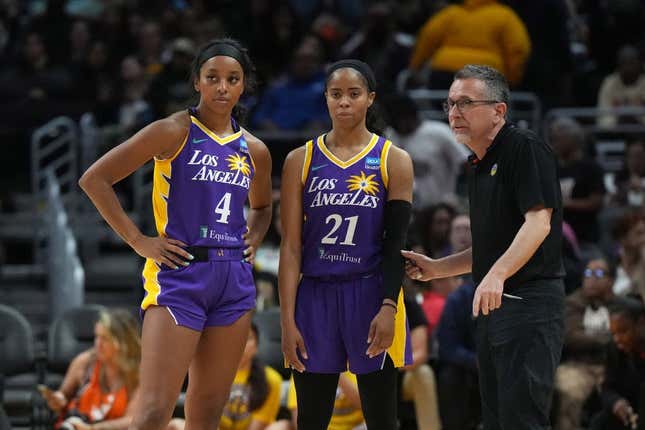 The Los Angeles Sparks will hope to extend their best stretch of play this season when they square off against the Atlanta Dream in a late-season game with potential playoff implications on Friday in College Park, Ga.
How running an NFL team is like running a restaurant | Chef Emeril Lagasse
The Sparks (14-18) have rocketed up the standings via a season-best five-game winning streak that most recently included a 91-62 walloping of Phoenix at home on Wednesday.
Azura Stevens racked up game highs of 20 points and nine rebounds in the victory, with Karlie Samuelson adding 15 points and Jordin Canada and Zia Cooke hitting for 11 points apiece for Los Angeles. The Sparks shot a season-best 54 percent from the floor and limited Phoenix to just 40.7 percent shooting from the field.
The Sparks' improvement in play has coincided with having the same starting lineup for the past six games. They improvised with 15 different starting lineups over the first half of the team's injury-plagued season.
"They're getting used to playing with each other," Los Angeles coach Curt Miller said. "All year long we were building this momentum and showing them our pillars and really self-scouting ourselves on what we were trying to accomplish. And they're seeing success now and they're seeing it come together and they're seeing how disruptive our style can be."
The Dream (16-17) will attempt to rebound after losing 112-100 at home to league-leading Las Vegas on Tuesday. Atlanta allowed Aces star A'ja Wilson to score 53 points, tying the WNBA's single-game scoring record.
Rhyne Howard led the shorthanded Dream with 27 points while Haley Jones had a career-high 23 and Danielle Robinson added a season-best 17 points.
"We needed to get stops down the stretch and hit some shots," Atlanta coach Tanisha Wright said after the loss to Las Vegas. "We won't dwell on it — we will take that game for what it's worth and come back ready to play on Friday."
Atlanta played without Allisha Gray and Nia Coffey, who have ankle and hand injuries, respectively. Coffey was ruled out for the rest of the year on Thursday.
The Dream have dropped four of their past five games and are 3-7 over their last 10 outings. Atlanta beat the Sparks in back-to-back games in July but then lost the third meeting between the teams on Aug. 12 in Los Angeles.
—Field Level Media