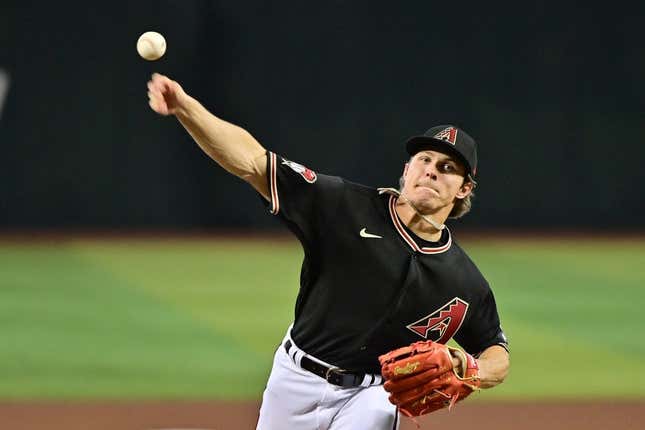 The big-spending San Diego Padres and perennial powerhouse Los Angeles Dodgers drew most of the preseason attention in the National League West.
Bass' ERA stinks, but not compared to who he is off the mound | Worst of the Week Countdown
However, the Arizona Diamondbacks sit atop the division, having won seven of their past 10 games. After defeating the host St. Louis Cardinals 6-3 Monday to open a three-game series, they will try to sustain their roll on Tuesday
The Diamondbacks will start Drey Jameson (2-0, 1.46 ERA), who earned both of his wins and a save while working out of the bullpen. He moved into the rotation on Wednesday to replace Zach Davies, who could miss significant time after sustaining an oblique strain
Jameson threw four scoreless innings against the Milwaukee Brewers in his initial start, allowing just three hits while striking out four in a game Arizona ultimately won 7-3.
"I didn't want to come out of the game," Jameson said afterward. "I felt like, as the game was going, I was getting more into a groove and stuff was coming out even better. I thought I could go longer today, but they're looking for the future, not today."
The Diamondbacks hope Jameson can work deeper into the Tuesday game after building more arm strength
"We knew quickly that this buildup would happen, he's gonna be extended ... up to 75 in his next start, and the next thing you know he's gonna be fully loaded," Diamondbacks manager Torey Lovullo said, according to Arizona Sports. "He's gonna be healthy and strong and firing fastballs for the rest of the year.
Jameson will be making his first career appearance against the Cardinals
Pavin Smith (3-for-7, double, grand slam, five RBIs) and Ketel Marte (3-for-7, homer, two RBIs) have paced the Arizona offense the past two games.
The Cardinals have lost three of their past five games while going just 11-for-52 (.212) with runners in scoring position during that span
St. Louis will turn Jordan Montgomery (2-1, 2.45 ERA), who took a tough-luck 5-0 loss to the Pittsburgh Pirates in his latest start. He allowed two runs on six hits in 6 1/3 innings on Thursday, striking out five and walking two.
Overall, Montgomery has fanned 17 batters and walked only five in 18 1/3 innings.
"He's done a really nice job," Cardinals manager Oliver Marmol said. "He's settling in really well. He's done a nice job for us (with) a combination of that four-seam and the sinker. (Against Pittsburgh) he leaned on the sinker a little more and it was effective. Had some swing and miss with that changeup. Overall, he's done a really nice job of stabilizing the rotation.
Montgomery is looking to work deeper into games.
"I'm going to go out there and try to eat up as many innings (as I can), save our bullpen, throw a hundred and whatever pitches," Montgomery said. "It's a little early now, but I want to be a horse going out there, give them 110, 115, every game."
This will be Montgomery's first career start against the Diamondbacks
--Field Level Media