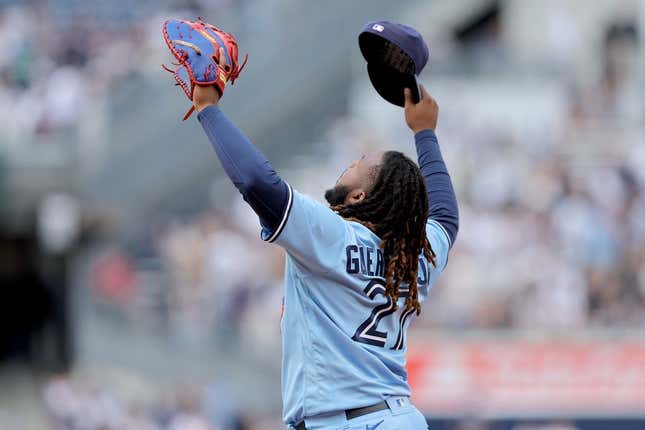 Having been swept in three games by the host Tampa Bay Rays, the Chicago White Sox don't catch a break, immediately starting a series in Toronto on Monday
Bass' ERA stinks, but not compared to who he is off the mound | Worst of the Week Countdown
The Blue Jays are opening a six-game homestand after a 3-3 trip, completed Sunday with a 5-1 victory over the New York Yankees in the rubber match of a three-game series
Right-hander Lance Lynn (0-2, 7.59 ERA) will start Monday for Chicago. He is 2-3 with a 4.33 ERA in 10 career appearances (nine starts) against the Blue Jays. In three career starts in Toronto, he is 0-2 with a 2.12 ERA in 17 innings
Toronto right-hander Chris Bassitt (2-2, 5.40) is 2-2 with a 4.01 ERA in five career starts against the White Sox
The White Sox, who were swept in a series for the first time this season, have lost four straight overall and nine of their past 11
"We've just got to keep playing," White Sox manager Pedro Grifol said. "There's nothing else to it. They're not going to stop the season. ... Buckle down. Head to Toronto and play good baseball. That's it.
The White Sox had a chance to do better against the Rays. Chicago reliever Reynaldo Lopez turned a save opportunity into a loss when he allowed three runs in the ninth inning of an 8-7 defeat on Friday. The White Sox tied Saturday's game at 3-3 with a run in the eighth inning before losing 4-3 in 10
"There's a lot of care in (the White Sox clubhouse), there's a lot of fight in there," Grifol said. "They've been through this before. We've just got to keep fighting. ... It's going to turn around.
"We definitely have not played our best," said Andrew Benintendi, who doubled and scored a run for Chicago on Sunday.
"We haven't clicked as a team yet as far as hitting and pitching at the same time. There's a lot of games we have kept ourselves in and had a chance to win. That's only going to benefit us moving forward. Still a lot of season left, but definitely need to start making a move here," Benintendi said.
"If we started off 23-0, I wouldn't think we were the best team ever, it's just taking it for what it is. Learn from it, get better, go get them tomorrow."
Kevin Gausman struck out 11 in seven shutout innings for Toronto on Sunday. The game was scoreless until the sixth, when Vladimir Guerrero Jr. hit a two-run homer and Daulton Varsho followed with a solo shot.
"Any time (Guerrero) comes up to bat, we're all paying attention, because he just hits the ball so hard," Gausman said. "You don't know what you're going to see. Obviously, that's a big two-run home run that got things started. He's a guy that kind of likes being the villain when we come here."
Guerrero has said that he would never sign with the Yankees, and the crowd booed him during the series.
The Blue Jays also won two of three from the Rays this season, an American League East contender as are the Yankees
"Any time we play (the Yankees) this year, it's going to be big," Gausman said. "Two super-talented teams just going at it. It's nice to come in here and get two of three. They're a good ball club, and we're going to need to win a lot of series against them to have success this year."
--Field Level Media