A Los Angeles judge has voided the $7.1 million judgement a jury awarded former Los Angeles Times sports columnist T.J. Simers in November, after he sued the paper for age and disability discrimination. The LA Times reports that Judge William A. MacLaughlin wrote there was "substantial evidence" that the paper did indeed discriminate against Simers, but that still the jury erred in awarding Simers damages for "constructive termination."
During the original trial, Simers claimed that after suffering a minor heart attack, he was subject to enhanced oversight and strict scrutiny from his editors, and was demoted. Eventually Simers left for the rival Orange County Register. But on Monday McLaughlin ruled that Simers wasn't forced out, but rather quit of his own volition:
"An employee who is demoted is not simply permitted to quit and sue because they do not like the new assignment," he wrote Monday. "While it may be a difficult experience to be criticized and demoted, an employee's embarrassment and hurt feelings do not transform a resignation into a constructive discharge."
Because of that ruling, McLaughlin dismissed the $2.1 million in economic damages the jury awarded Simers. Today he dismissed the $5 million in emotional distress damages too, ruling that they were awarded—at least in part—because the jury believed Simers had been forced out of his job.
McLaughlin also ordered a retrial on Simers's constructive dismissal claim.
Screenshot via
G/O Media may get a commission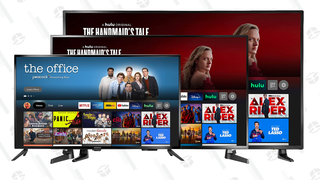 Up to 44% off
Prime Early Access - Insignia Fire TVs
---
E-mail: kevin.draper@deadspin.com | PGP key + fingerprint | DM: @kevinmdraper