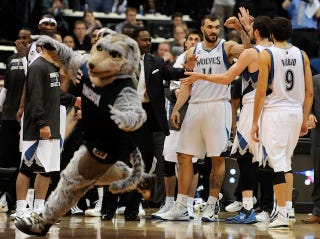 Are you a woman who is also a fan of the Minnesota Timberwolves? Are you also unable to afford HBO and/or really bad at keeping up with popular culture? Then you need to get yourself to one of the Minnesota Timberwolves' "Ladies Night Out" games this year.
For $18 dollars, a female Timberwolves fan will get an upper-deck ticket, a free beer or glass of wine, and a DVD copy of season one of Girls. It's that last bit that's a little odd, as season three of Girls is set to premier on January 12, and the team ran the exact same promotion last season. Where the hell are the season two DVDs, T-Wolves?
Basically, the Timberwolves are trying to stick the women of Minnesota with their excess collection of shitty DVDs that nobody really wants or needs anymore. Cool promotion.