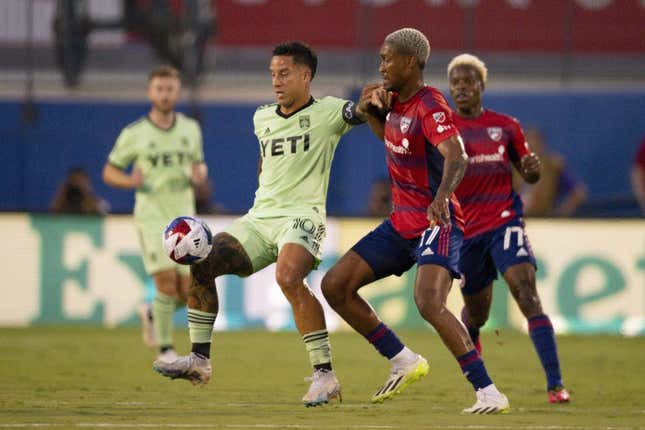 Nkosi Tafari scored a shocking game-winning goal on the final action of the match to lift host FC Dallas to a wild 1-0 win over short-handed Austin FC on Saturday in a Texas Derby match in Frisco, Texas.
Is Texas or Florida State a bigger national title contender? | Agree to Disagree
Dallas (9-9-6, 33 points) had a man-advantage for the final 30 minutes of the match and finally parlayed the situation into victory when Tafari's header off a pass into the box by Marco Farfan beat Austin goalkeeper Brad Stuver to the top left corner of the net. The winning score came seven minutes into second-half stoppage time.
Dallas goalkeeper Maarten Paes stopped two shots to record his sixth clean sheet of the season in match in which the home side dominated the statistics.
The first half featured more yellow cards (two by Dallas and one by Austin) than shots on goal. Austin (9-11-5, 32 points) had the only shot on target over the first 45 minutes and stoppage time when Alexander Ring's shot to the bottom-left corner was turned away by Paes in the 15th minute.
Owen Wolff produced the Verde's second shot on goal in the 55th minute off an assist by Ring, but it was an easy save for Paes.
Dallas then managed to force Stuver into his first two saves of the match when an extended possession in the offensive area resulted in shots by Eugene Ansah and Facundo Quignon in the 60th minute that the Austin keeper denied at the bottom right corner and bottom left corner, respectively.
The complexion of the match changed in the 67th minute when Austin's Daniel Pereira was sent off for his second yellow card, forcing the visitors to play the rest of the way with just 10 players.
Austin has won once and earned a draw in its past six league matches. The Verde has never won on the road against FC Dallas and has earned just one point in its four all-time visits to its rival to the north.
—Field Level Media