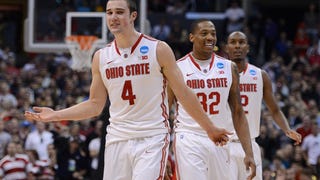 Wichita State is going to the Final Four after dispatching with Ohio State last night. We thought we'd put together a goodbye for Aaron Craft but soon realized he's only a junior and surely not going to enter the NBA draft so, whatever, we're still doing it anyway. So long, Aaron. See you next year.
The shot was the shot, but what really made every person associated with college basketball go temporarily insane, was the charge Craft took with 1:41 left in the game.
We've done enough loving on March Madness this week. March Madness is a wonderful time of the year, but it is also to be hated on: The fluffy mascots dancing around like they own the place, the pepped-out pep squads cheering like they actually believe in something, the crabby coaches, the clueless announcers, and the…
Aaron Craft. You either loved him or hated him. Regardless of what side you found yourself this March, there is no denying one thing: Aaron Craft is smart.