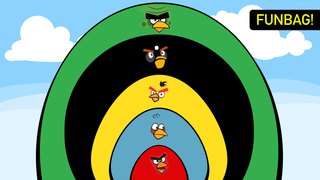 Time for your weekly edition of the Deadspin Funbag. Got something on your mind? Email the Funbag. Today, we're covering nutshots, ramen noodles, paraplegics, and more. Your letters:
A few months ago we noted this weird video featuring a cartoon Andy Reid introducing Angry Birds characters as new members of the Philadelphia Eagles. Yesterday, we learned what product that video was promoting, and unsurprisingly it's this Eagles-themed version of the popular casual game.
It must have been written into the Eagles' contract with the Angry Birds video game empire that cartoon Andy Reid cannot be fat. Instead the Eagles coach is impossibly muscular at a press conference introducing the newest members of the team: Red Bird, Yellow Bird, and, I don't know, the other birds.