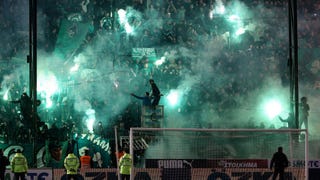 Greek soccer's governing body (the EPO) announced today that the Superleague and all domestic cup competitions would be suspended after someone tried to set the home of Giorgos Bikos on fire. Bikos is the head of the EPO's refereeing committee and his house in northern Greece was attacked early this morning.…
Olympic athletes continue to be victimized by crime and poor facilities—simultaneously, it would seem, as the Australian delegation returned to their lodgings after a fire to discover they'd been robbed.
KYTX is reporting that a lake house owned by Johnny Manziel's father, Paul Manziel, has burned down. The house is in Whitehouse, Tex., and the fire is reportedly "suspicious in nature."
Here's your daily link to Dave McKenna's brilliant "Cranky Redskins Fan's Guide to Dan Snyder," which we'll be posting until Daniel Snyder's dumbass libel suit is reduced to powder and not the fun kind (for Daniel Snyder).