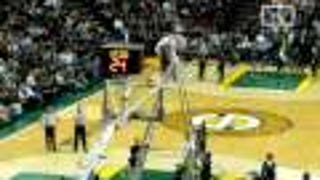 Two-plus years ago, Squatch, ex-Seattle Supersonics mascot, pulled off the same stunt that has made Bango the Buck a minor celebrity — off an even-higher ladder. It's so like Seattle to point out they've been doing something longer.
Bango — drunk with power after surviving last night's dunk — is now harassing Wisconsin's small coterie of Atlanta Hawks fans. Enjoy the dulcet tones of P.O.D. and — I hope — the use of a single Al Horford jersey. H/T Jon.
Bango, the Bucks' mascot, is one of the best performers in the mascot ranks. Last night he proved it. During the biggest game of the year, Bango flipped off a ladder, dunked, and somehow managed not to die. [Vegas Plays]
Earlier we showed you the incredible true story of a basketball shot banked in off the crotch of Bango, the Milwaukee Buck. What you didn't see was the tragic aftermath of that horrible day.