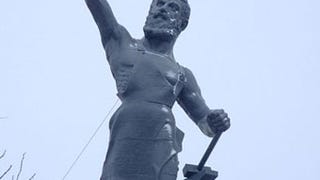 Tomorrow night's forecast for Birmingham, Alabama, calls for freezing temperatures and snow, possibly mixed with rain. It's a Southern TV meteorologist's wet dream. Which is why everyone is preemptively pissed at them for interrupting the BCS Championship with storm updates.
Yesterday, we told you about the Alabama lawyers (pictured?) who asked a judge to postpone their case so they can attend the BCS Championship Game. Well, the judge—an Auburn fan!—granted their request. It's a travesty of good sportsmanship.
Venezuela's national basketball team flew all the way to Alabama to participate in an international tournament, only to discover they were the only international team there. Also, the "tournament" was just one game. You've done it again, Birmingham, Alabama.