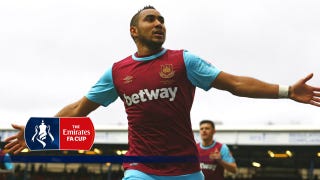 This isn't even a dedicated Dimitri Payet individual highlight video and yet it's still composed almost entirely of West Ham's superstud going all best mode all over Blackburn in the FA Cup this weekend. And that's because any time the Hammers do something cool, you can bet Payet will be at the center.
Unlike Tommy Tuberville, who left a meal and screwed over his recruits by signing with another organization, DJ Campbell left a contract negotiation for a meal and screwed over his bosses by a signing with another organization. Even shrewder and, considering who he was pissing off, ballsier too. Campbell escaped from…
Blackburn Rovers are facing relegation from the Premiership, and need a win against WIgan Athletic today to even have a chance at staying in England's top soccer division. Perhaps as a statement against absentee owners, a chicken bearing the Blackburn flag was unleashed onto the pitch early in today's match,…
Sir Alex Ferguson, manager of Manchester United who recently served a five-game suspension and paid a £30,000 fine for criticizing a referee after a 2-1 loss in March, has once again been charged with improper conduct for publicly speaking about a referee.
Blackburn's chicken people are still working their way through a list of players that could make for decent marquee signing — sadly the list appears to be from 2004.