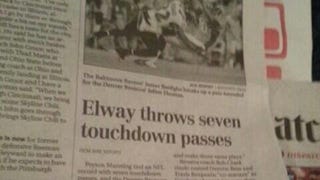 According to the Columbus Dispatch, it was ol' No. 7 who put a historic hurting on the Baltimore Ravens last night. There's never really a good excuse for mistaking John Elway for Peyton Manning, but this definitely shouldn't happen the morning after a record-setting performance like the one Manning gave last night.
Yesterday, we all had a good laugh at the Columbus Dispatch's photo of the pivotal play from Monday night's Red Wings-Blue Jackets game. Something something Damien Brunner scored a shootout goal something something we think the Red Wings won something something ... oh, look: That fan in the front row to the right…
The Columbus Dispatch's game story today tells us about the SRO crowd at Nationwide Arena, the outstanding play of goalie Sergei Bobrovsky, and the moral victory the Blue Jackets apparently earned with their close loss to the Red Wings and their aging roster.
For a summer in college I interned for the sports department of the Columbus Dispatch, which sent me for a few days to cover Cincinnati Bengals training camp. The 1990s had just come to a close—a dismal era even by the Bengals' standards—and the beat writers killed time during practice by stumping one another with…