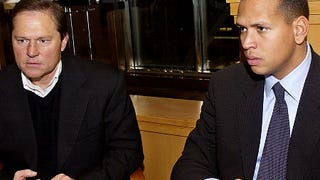 Given all the wackiness that's ensued since Alex Rodriguez marital woes have hit the news cycle, it's tough to disseminate between truth, fiction, fodder, and horseshit hearsay. Strangely, some of the gossip has been true to a certain degree — Madonna has "canoodled" with A-Rod; Cynthia has used Lenny Kravitz's Paris…
Alex Rodriguez tied Mickey Mantle's home run mark last night in the Bronx, just as news began to spill out that his five-year marriage to Cynthia is officially-officially crumbling.
After days of speculating about the state of Alex Rodriguez's marriage it appears that the one truthful item out of this whole entire scandal is that he and his wife, Cynthia (can't bring myself to say "C-Rod" — yet) are not getting along. Late yesterday afternoon, the tabs and gossip blogs began reporting that…

So, it appears that Alex Rodriguez won't shed the tabloid front pages that easily. This time, however, he's not the one who's allegedly having an affair with a haggard old pop star — it's his wife.