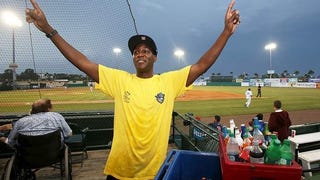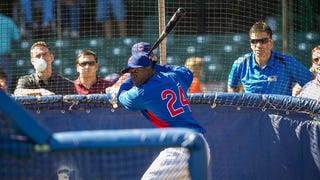 Details are still scarce, but apparently one of Chicago's top prospects, Jorge Soler, was ejected from the Daytona Cubs game against the Clearwater Threshers tonight when he charged the Threshers dugout with a bat after exchanging some words with Daytona's second baseman.
Last night, we told you about minor league umpire Mario Seneca, who ejected the music guy/college intern working for the high-A Daytona Cubs for playing "Three Blind Mice" after a questionable call. Today, video of the incident has surfaced (thanks to the Daytona Cubs themselves) and it confirms our worst fears…
Keep your eye on back row of grounds crew workers in the video above, specifically the fourth person from the left. Even if you can't find him right away, you certainly will by the six-second mark, when the wind launches him several feet off the ground. That's Kyle Smith, the general manager of the Brevard County…
Another cop tased another unruly sports fan on Saturday, this time at a Daytona-Fort Myers Class A game. Between this and the explosions, minor league baseball is starting to resemble Greek basketball far more than anyone should be comfortable with. [Busted Coverage]
Believe it or not, we actually have some updates about Cubs pitcher Jeff Samardzija's "sad" Daytona past. And if they are to believed...well, they're pretty boring. Hey, that's just how (some) investigative journalism gets done.