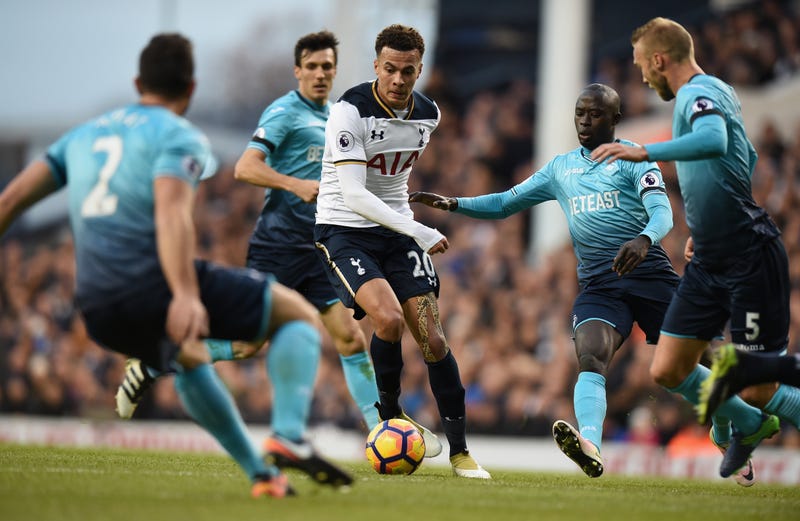 The first goal in Tottenham Hotspur's (sorely necessary) rout of Swansea City this weekend was scored by Harry Kane—a penalty kick awarded in the 39th minute, after Dele Alli went down in the box under a challenge from Kyle Naughton. It was, as even the most loyal Spurs supporter can admit, a dive.
I mean, c'mon man. This is, I suppose, what happens when you have a reputation as a diver, even the obvious calls can look like acting.
In most ways that matter, Brazilian legend Ronaldinho doesn't have it anymore. He's 35, chubby, and besides brief, ephemeral moments of inspiration, has neither the talent nor inclination to dazzle fans on the soccer pitch the way he used to.
Since being released by the Atlanta Falcons in November, defensive end Ray Edwards has embarked on a fledgling boxing career. The video above comes from a recent bout that Edwards had in West Fargo, North Dakota. I don't know why Edwards is fighting a short, pudgy man who looks more like an accountant than he does a…
Bills cornerback Drayton Florence has made a career out of his tough-guy image (just ask Mark Sanchez) but the stunt he pulled Sunday against the New England Patriots puts him firmly in Italian soccer star territory. It was less a flop or dive and more of a hurl—a leaping, falling charade of nonsense worthy of being…
The business of cataloging awful (and sometimes admirable) injury performances in soccer games is an important one, and we do not take it lightly. Also not apparently taken lightly: Incidental contact to Lille's Aurélien Chedjou's neck. The contact somehow automatically transported to the Cameroonian's eyeball and…
This post, written by Josh Burt, is republished with permission from The Spoiler. Go there often if you like soccer stuff.
This post, written by Richard Gilzene, is republished with permission from The Spoiler. Go there often if you like soccer stuff.